Kuvée Smart Bottle hands-on preview: Go ahead, open all the wine you want
Unique valves at the mouth of each bottle keep the remaining wine fresh for up to 30 days after the first pour.
"A bottle of white, a bottle of red, perhaps a bottle of rosé instead?" Billy Joel croons. Use a Kuvée Smart Bottle and you can open all three and pour a glass from each. Mr. Joel and everyone else gets what they want, and the remaining wine will stay fresh for up to 30 days.
That's the promise this Boston-based startup is making to wine lovers (and winemakers). The company has developed a new type of wine bottle and a high-tech sleeve that fits over it. The bottle, fabricated from aluminum with a plastic liner, has a tiny valve that opens only when it's inside the sleeve. Restricting the amount of air that reaches the wine prevents the wine from becoming oxidized after the bottle is opened (preventing light from reaching the wine also helps).
The one drawback to this design, which I discovered after placing a bottle inside the sleeve for the first time, is that the valve doesn't re-close until you take it out of the sleeve again. Tilt the sleeve too far and you'll spill the wine. On the upside, the valve helps aerate the wine as it pours out, opening its flavor and aroma on its way into your glass.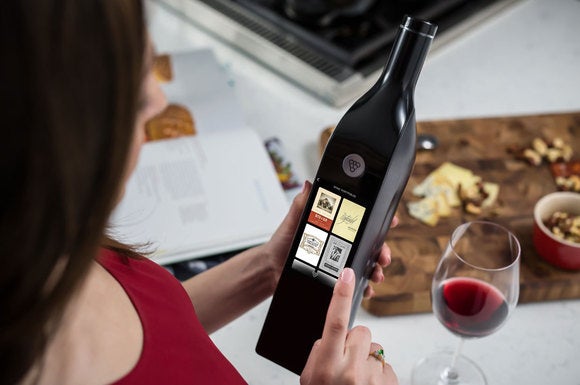 A touchscreen built into the sleeve displays the wine's label, information about the winery and the winemaker, suggested food pairings, and more. You can also order more wine right from the bottle. Credit: Kuvee
How do you know what you're pouring, once the sleeve has covered the bottle's label? Just touch the 3.5x2.0-inch, 640x480-resolution color LCD and you'll see not just the label but also notes about the vineyard and the winemaker, suggested food pairings, the current temperature of the wine, and even how much is left in the bottle. Most of the information about the wine is contained in an RFID collar on the bottle.
A 5GHz 802.11n Wi-Fi adapter built into the sleeve lets you order more wine right from the touchscreen. Kuvée will eventually offer a firmware update that will help you keep track of the wines in your home, which ones have been opened, and how much you have left. The company might also use the Wi-Fi connection to offer consumers coupons and other special offers.
You might think the requirement to bottle the wine in an unconventional container would present a significant barrier to acceptance in the wine industry, but Kuvée says its aluminum bottle holds 750ml of wine, just like a traditional glass bottle, and that the bottling process—which Kuvée handles after the wineries deliver their product in bulk containers—is not substantially different.