Kuvée Smart Bottle hands-on preview: Go ahead, open all the wine you want
Unique valves at the mouth of each bottle keep the remaining wine fresh for up to 30 days after the first pour.
The bottle's lighter weight significantly reduces shipping costs, which helps keep the retail price of the wine about the same as if it were shipped in a conventional bottle. To date, Kuvée has signed up 48 wineries to participate in its program. Most of these are smaller, but prestigious operations, including B.R. Cohn, Seghesio, Schug, and Bonny Doon.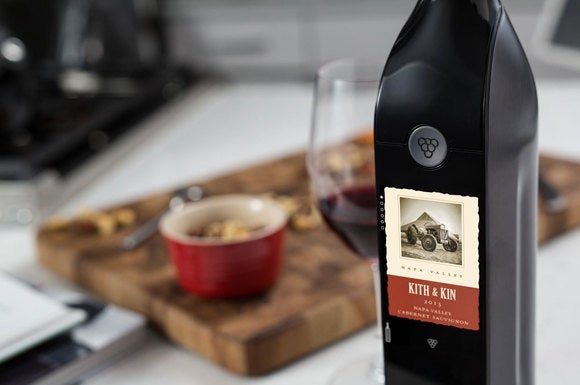 Push the button above the touchscreen to release the bottle from the sleeve. Credit: Kuvee
When I spoke to Kuvée CTO Ed Tekeian last week, he told me the bulk of the wines in the company's inventory will cost between $15 and $25, with a price ceiling of about $50. "We're targeting people who like wine, but who don't want to spend a ton of money on it," Tekeian said. "If you like nicer wines and enjoy entertaining, Kuvée will be of interest."
After using the Kuvée system to sample portions of four bottles of wine, I must say I'm impressed with the technology. Everything worked as advertised. What I can't say at this time is whether the technology really can preserve the remaining wine for the full 30 days the company promises. I have no reason to doubt that claim, but I've been using the Kuvée Smart Bottle for less than a week. I'll update this story into a complete review as soon as I can evaluate that claim.
During Kuvée's pre-order campaign, consumers will be able to order the sleeve and four bottles of wine (two whites and two reds) for $179, with delivery scheduled for December. Click here to go to the company's Indiegogo page.