Lenovo Yoga 910 review: A host of excellent upgrades make it a winner
The battery life is a fantastic 11 hours, too.
PCMark 8 Work Conventional
Given this notebook's design and configuration, it'll likely spend much of its life regurgitating spreadsheets and Word docs. We also envision a lot of PowerPoint in its future. To test its chops in this buttoned-down environment, we ran PCMark 8's Work Conventional test, which simulates a typical office workload: word processing, web browsing, video calling, and light spreadsheet editing.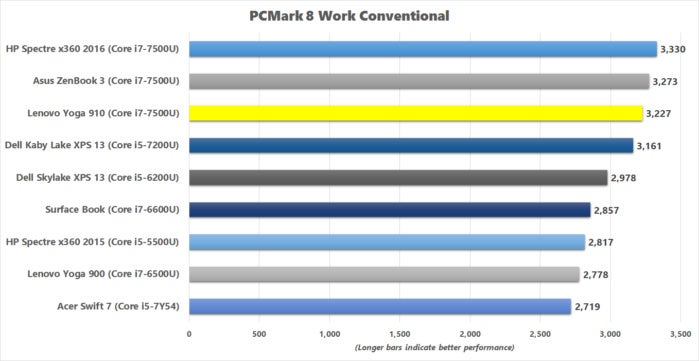 In no surprise, the Yoga 910's score of 3,227 makes it well-equipped for office work. (For context, any machine scoring 2,000 or above will sail along smoothly during these low-intensity tasks.) Among its convertible ultrabook peers, the Yoga 910 finished near the top of the heap, no doubt thanks to its speedy Kaby Lake CPU. Its overall score was 12 percent faster than the Skylake-based Surface Book i7, and 8 percent faster than the Skylake XPS 13—the XPS 13's stronger showing is likely due to the more powerful cooling in that laptop.
Against the similarly equipped Zenbook 3, the Yoga 910 tied it exactly—their matching CPUs might have dictated the outcome. The HP Spectre x360 comes out on top, but its edge falls within the narrow margin of variance when running the benchmark. Overall, the Kaby Lake systems are about 10 percent faster than their Skylake counterparts, which is what Intel promised.
Cinebench R15
Even if a Yoga 910 is business-minded, it may still have to grapple with the occasional brief CPU-heavy task. Accordingly, we fired up Cinebench R15, a 3D rendering benchmark that puts intense stress on the CPU for a few minutes. It's a demanding test for any processor and scales well, too.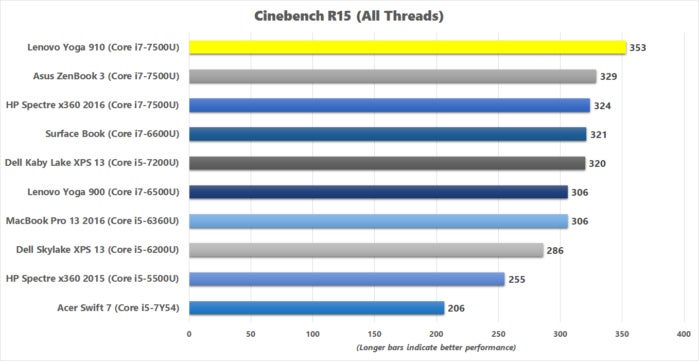 Once again, the Kaby Lake U processors are an average of 9 percent faster than their Skylake predecessors. The Yoga 910 is the fastest ultrabook we've tested thus far. Its lead on the new MacBook Pro 13 and its Skylake CPU was even wider than the average of 10 percent—in this test, the super-slim Yoga 910 was 15 percent faster. Surprisingly, it was also nine percent faster than the HP Spectre x360, despite the fact that the HP has the same CPU as the Yoga.
Handbrake
For ultrabooks, this CPU benchmark is more of a torture test than anything else: Using Handbrake to convert a 30GB MKV file into a smaller MP4 using the Android Tablet preset hammers hard on a processor. Handbrake will eat up as many CPU cores as it can while it encodes. You can't get much more real-world than with this test.
Previous Page 1 2 3 4 5 Next Page