Lenovo Yoga 910 review: A host of excellent upgrades make it a winner
The battery life is a fantastic 11 hours, too.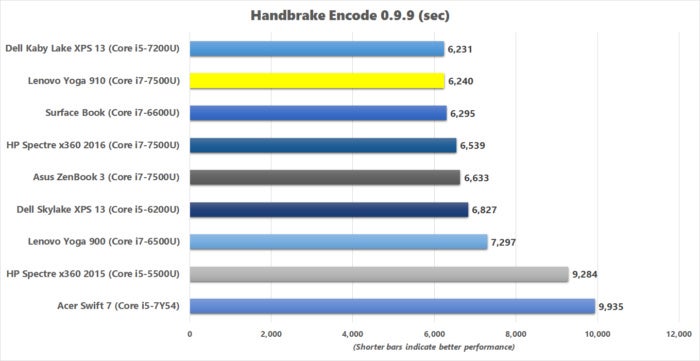 Impressively, Yoga 910 still streaks by most other ultrabooks. A few systems were faster, but by such small margins that it's like a three-way tie. As expected, Skylake machines like the previous-generation Dell XPS 13 ran about nine percent slower than the Yoga 910.
3DMark Cloud Gate
We know that an ultrabook's gaming chops are as thin as its chassis, but some people play very basic games on them anyway. Because the Yoga 910 is a Kaby Lake system, it rocks Intel's new HD 620 graphics, which has the same specs as its predecessor, the Intel HD 520. However, given the overall improvements to the processor, it's reasonable to assume the Yoga 910 will show a modest boost in gaming performance.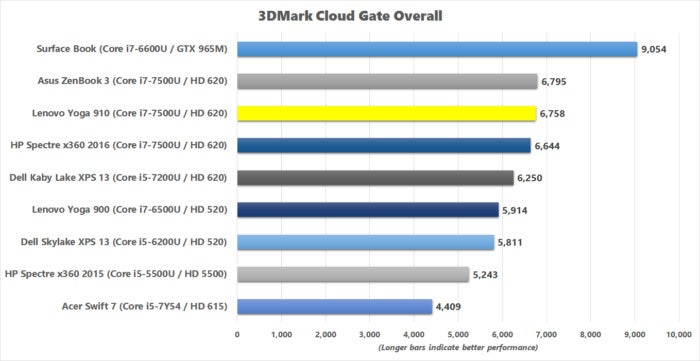 3DMark's Cloud Gate benchmark i's a lower-resolution test that runs at 720p and is designed for low-power notebooks. Compared to the 2016 Skylake Dell XPS 13, which runs Intel's HD 520 graphics, the Yoga 910 was 16 percent faster overall. That's about what we expected. The Yoga 910 was also 28 percent faster than the Broadwell Spectre x360's older HD 5500 chip. Of course, we're examining this within a very narrow context—this doesn't mean the Yoga 910 is a fast chip. It's still integrated graphics running on a 15W CPU. Still, it does appear to be moderately faster than the HD 520 in Skylake processors.
Battery Life
Given the Yoga 910's size, this ultrabook's 78WHr battery is impressively large. More impressive is how it performed in our 4K video playback test, in which we run down a fully charged battery by playing a 4K UHD file on loop in Windows 10's native Movies & TV app with sound on. Lenovo claims a battery life of nine hours for video playback, but that estimate is likely for the configuration sporting a 4K UHD (3840x2160) screen. On this 1920x1080 base model, we got a fantastic 11 hours and six minutes.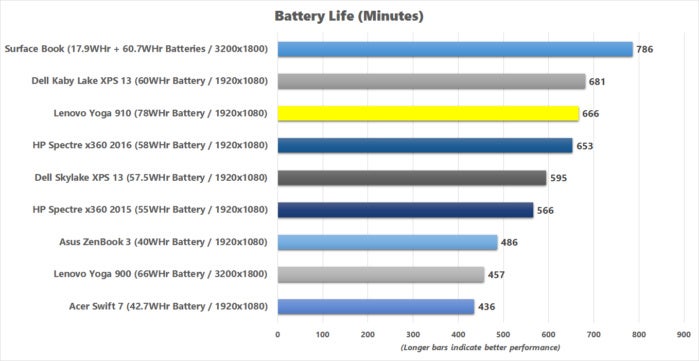 That performance places the Yoga 910 in the top tier of our battery tests. It's no match for the ridiculous 13 hoursfrom the Surface Book i7, but remember it has two batteries, making it a bit of an outlier. Back in the single-battery world of most laptops, the Yoga 910 hews closely to the HP Spectre x360 and the Dell XPS 13, which were all around 11 hours as well. This is a superb result, as it exceeds what we would consider "all day."
Previous Page 1 2 3 4 5 Next Page