Lenovo Yoga Book review: Full of innovative ideas ahead of their time
Forcing Android into this form factor isn't easy, and it shows.
See the pen icon? Make sure to double-tap that when you're done jotting.
I can't draw, but I do take a lot of notes. I have numerous notebooks scattered all over my office, and in backpacks.
If there's one thing I'm consistent at doing, it's misplacing notebooks and starting fresh in a different one. Much in the same way the iPad Pro with Apple Pencil was appealing to me, so too is the Yoga Book's Create Pad and Real Pen.
Included in the box is a notepad, and a pen. The pen comes with a styli tip preinstalled, but is easily changeable with the three included ink tips.
To use the Create Pad, you place the notebook over where the Halo Keyboard normally shines and long-press the pen button to the side of it. You can then jot or draw on the paper. When you're ready to switch pages, double-tap on the pen button again or press the volume button just above it. Doing so creates a digital copy of your analog writing.
It all sounds really simple, right? It is, but only if you truly read the instructions — and remember them.
For the first few days I had the Yoga Book sitting on my desk, paper pad and pen at the ready for quick notes. At the end of each scribble, I would long-press the pen icon and assume the note was saved.
Eventually I wanted to view how my notes looked in the Note Saver app. To my surprise, nothing was there. After troubleshooting, I discovered I was doing it wrong. Subsequent notes were saved with ease, and look fairly true to life in the app.
Someone who wants a convenient, always-on method to create a digital version of notes and sketches, the Yoga Book is fully capable of doing just that.
Software enhancements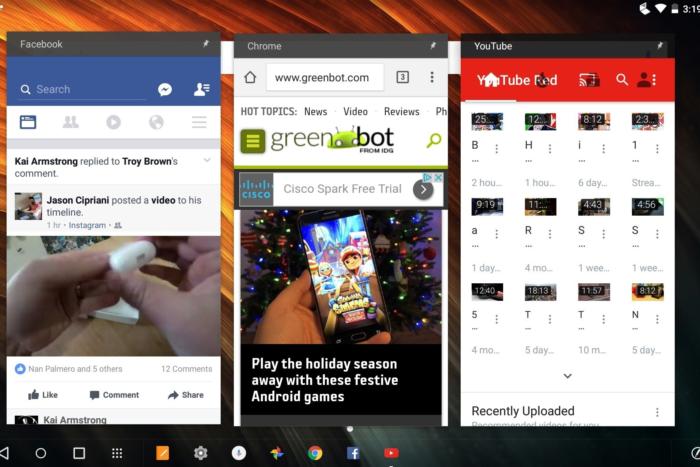 Notice how the YouTube app is borked? That sums up the experience.
After you open a few apps and look at the home screen of the Yoga Book, you'll notice icons for open apps begin to line the dock. This makes switching between apps a breeze, and provides a running tally of which apps you're using.
Changes such as this to the overall experience on the Android 2-in-1 are common. Some apps, like Gmail, launch by default in a small window similar to how it would look on your smartphone. A double-tap of the top bar on each window will maximize it to full-screen, with a second double-tap switching it back to a phone layout.
Only, the problem is not every app works well in this manner. For example, the Facebook app doesn't always properly switch back to the phone layout. Images are often off to a side, text is wrapped into a single column word by word. Closing the app and reopening it is the only way to fix it.