Lenovo's ThinkPad X1 Tablet modules add features but limit functionality
The tablet's modules do support keyboards, but you might be turned off by those plastic bits.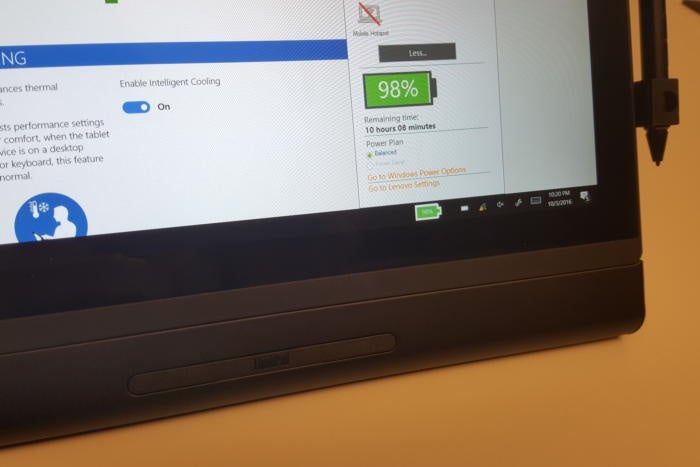 All three modules connect to the X1, but only in tablet mode. Still, the total battery life (an estimated 10-plus hours, in this shot) might be worth the inconvenience.
Here, the productivity module is more useful, because the battery simply extends the battery life of the tablet itself: very similar to the "barrel batteries" ThinkPad owners have been able to buy for years.
Finally, for those who have a hankering to scan 3D objects or measure virtual spaces, Lenovo provides the 3D Imaging module, with an embedded Intel RealSense camera built in. That's aimed at a much narrower niche than the other two modules, and wasn't available for us to try out.
The Lenovo X1 Tablet remains one of our favorite two-in-one devices, not least because of the care Lenovo took in its engineering. We're happy to see that some of that care extends to the modules, in that they can be use used with the keyboard. We originally characterized the lack of keyboard support as a fatal flaw. Now that that's been clarified, I think it's fair to say that the Productivity module's battery is a helpful, worthwhile addition. But the lack of luminosity in the Presenter module—and those annoying little plastic bits—might give you pause.
Previous Page 1 2 3