Living the CES security farce
The new 'enhanced' security promised for CES turned out to be a joke, but the illusion of safety provided by security theater really fell away on the way home.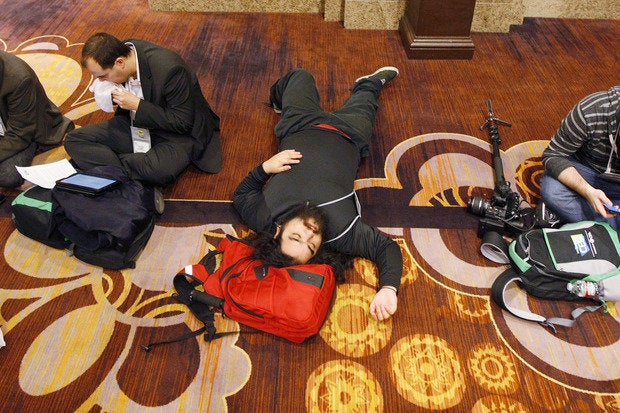 A man sleeps in line while waiting for a news conference during press day at the Consumer Electronics Show in Las Vegas. Credit: Rick Wilking, Reuters
Are you kidding me?
I recently returned from the Consumer Electronics (CES) trade show in Las Vegas, and that question has been on my mind. The question doesn't refer to any of the technologies vying to be the next big thing — although I do wonder how many Bluetooth controlled vibrators does one really need? No, what has me wondering is the big announcement ahead of CES about much tighter security restrictions. I wrote before the show that it would be a disaster with never-ending lines and disgruntled attendees, but that wasn't exactly how it turned out. It was certainly chaotic, but it was a general surrender even before the event opened.
CES is among the world's biggest conferences, with 170,000 people shuffling into Las Vegas for a week. This year, attendees were warned that new security practices would be in place. Among the guidelines were: "Bags will be searched. We suggest you use clear bags (mesh, plastic, vinyl, etc.) to expedite this process"; "Bags and backpacks with many pockets are not helpful. Pockets slow search time"; and "Everyone will be subject to metal detector screening and body pat downs upon entering show premises."
Many of us wondered how these new security measures would accommodate our usual trade show behavior. Was there any hope of making appointments on time? I and my journalism colleagues were particularly pessimistic, because we're expected to file stories from the press room, which means carting along a laptop computer and supporting electronics. And we hustle from venue to venue to meet people at appointed times. How would any of that work out when we had to stand in long queues wherever we went?
As it turned out, CES — whose success has derived in no small measure from publicity — saw the light regarding us journalists and relaxed its new rules for members of the press. That was an orderly retreat. But it still intended to treat the unwashed masses to a full dose of security theater. From what I could see, though, those plans disintegrated in a most disorderly fashion.
And in the end, the illusion of safety provided by security theater really fell away on our way home.
Just before I arrived in Las Vegas on Sunday, the CES brass decided to loosen its security rules for journalists. As press, our laptop bags would have to be checked only once, and for the next six days, a green tag would let security personnel know that the bag was perfectly safe. Yes, that's right, one search served for every venue on every day. And me without any C4 plastic explosives and a timer stashed in my hotel room!