Meet the sleek Surface Studio all-in-one, Microsoft's first-ever desktop PC
Taking aim at the 5K iMac.
The gorgeous, powerful Surface Studio all-in-one PC may be a new form factor for Microsoft's hardware division, but in many ways it follows in the footsteps of its predecessors.
When Microsoft first launched its Surface tablets, the devices were more than just another laptop. The Surface series originated as aspirational devices, a no-guff imploration from Microsoft for PC makers like Dell and HP to embrace Windows 8's newfound capabilities, to do more—or Microsoft would take the lead itself. PC makers were pissed, to put it mildly. But over time, Surface became a multi-billion dollar business for Microsoft. Laptops and 2-in-1s from other vendors slowly became more Surface-like, with some—such as Lenovo's Yoga Book—pushing even further into radical designs that embrace Windows 10's touch-friendly features.
Mission accomplished.
So now Microsoft's turning its attention towards traditional PCs with the Surface Studio all-in-one, the company's first-ever desktop computer. It's yet another aspirational device built for a harmonious existence with the Windows 10 Creators Update's new content-creation features.
The Surface Studio takes direct aim at Apple's swanky Retina iMac. It's built around a 28-inch, 4500x3000 screen measuring a mere 12.5mm thick and housed in a forged aluminum enclosure—making it the thinnest LCD monitor ever built, Surface boss Panos Panay says. That's 63 percent more pixels than a 4K television, with a seamless 192 pixels-per-inch density, and all those pixels can be rendered in either DCI-P3 or SRGB mode on the fly with a single button press. If you know what that means, you're the Surface Studio's target audience: "creators and professionals," according to Panay.
Microsoft designed the Surface Studio's screen at a 3:2 aspect ratio to enable the AIO to render images at what it calls "True Scale." An inch on the screen translates to an inch in real life, letting creators see what their work will truly look like in the real world. The Surface team even designed the chrome arms holding the screen aloft to be as discrete as possible, so your sole focus remains on that gorgeous screen and the work at hand. The "zero gravity" springs inside those arms make shifting the screen smooth and simple, and the display can be laid all the way back to a 20-degree angle for a more natural position while drafting.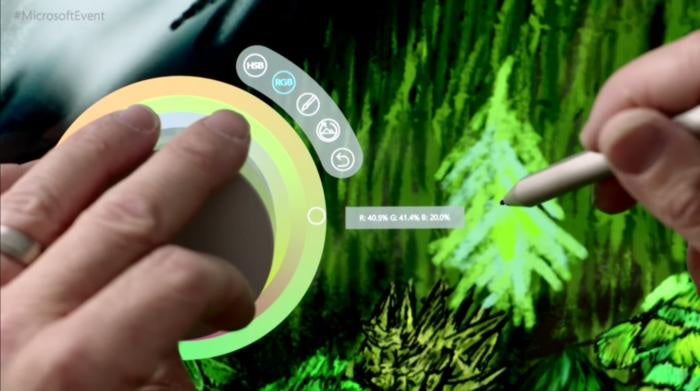 The Surface Dial in action on the Surface Studio's screen.