Meet Ubi, the tiny voice-activated computer that wants to control your smart home
Ubi responds to voice commands to adjust your thermostat, answer trivia questions, send text messages, and more.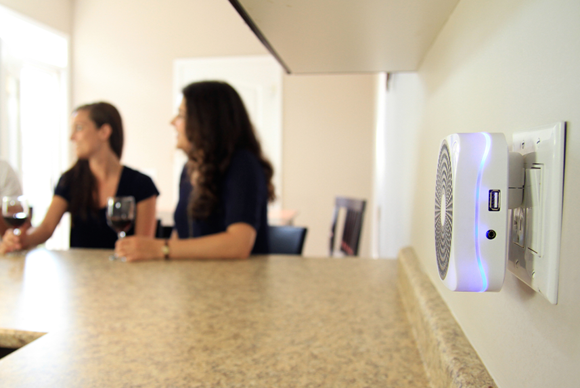 While it's small enough to be an oversized wall wart, the Ubi is far more interesting for what it can do. Plug this tiny computer into an AC outlet, connect it to your Wi-Fi network, and you gain the ability to control many of your home-control systems--lighting, thermostat, music-streaming services, and so on--using nothing more than voice commands.
Its developer says Ubi can do other things, too, including sending text messages, adding appointments and reminders to your calendar, and answering simple questions, such as "What's the weather?" or "Who invented the light bulb?"
Ubi--it's pronounced "oo-bee," by the way--draws its name from "ubiquitous," because it's designed to operate 24/7. The little computer entered beta testing in 2013, following the completion of a successful Kickstarter campaign that raised nearly $230,000 (of a $36,000 goal). There are 2500 beta systems on the market now, but the finished product goes on sale today for $299.
"We received good constructive feedback from our user base," Ubi cofounder Leor Grebler told me in a phone call yesterday. "So we're not starting from scratch. But some people were expecting an Apple product and were disappointed even though they knew it was beta. The product we're shipping now is closer to the Apple end of the spectrum."
Ubi is a small Android computer comprised of two ARM processors; two microphones; a pair of speakers; a Wi-Fi adapter; a collection of sensors that monitor temperature, humidity, air pressure, light, and sound; and LEDs to let you know when it's listening.
The headless computer (meaning it has no display) runs a version of the Android OS, and its manufacturer, UCIC (Unified Computer Intelligence Corporation), operates a Web portal through which you can teach it new tricks, called Lessons.
End users won't need to handle all the programming chores on their own, however. Ubi already works with a number of popular services and devices, including the SmartThings and Belkin WeMo ecosystems, the Nest thermostat, and the IFTTT (If This Then That) service. It can also play musical requests, relaying your wishes to your Grooveshark or SoundCloud subscription.
Your wish is Ubi's command
Beyond that, Grebler says Ubi can control pretty much any device or system that can handle an http request. "Our goal is to be a voice layer for interconnected devices," he said. "We want to add voice integration to all the services that are already out there."
To that end, the company has developed an open API and is encouraging DIYers to experiment with it. Grebler said they've heard from beta testers who are using the Ubi to add voice-recognition capabilities to everything from the inexpensive Vera home-control hub to very high-end Control 4 systems.