Microsoft board shrinks Nadella's 2016 stock award
CEO gets US$7.9M in shares as part of year's pay package, or 60 percent of target set when he was hired.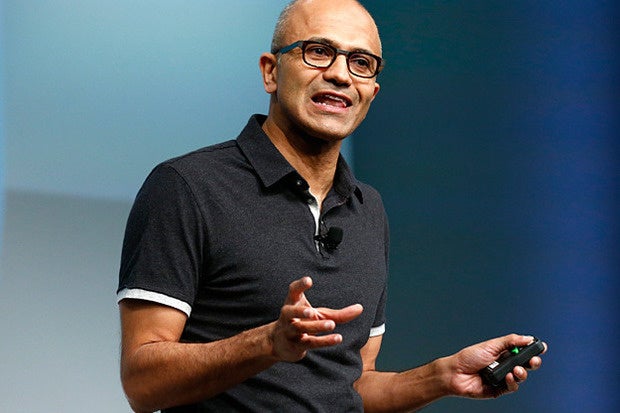 Microsoft CEO Satya Nadella. Credit: Brendan McDermid/Reuters
Microsoft's board of directors earlier this month downsized the stock award portion of CEO Satya Nadella's 2016 compensation package compared to the year before, according to documents filed with the U.S. Securities and Exchange Commission (SEC).
Although Nadella's full package for the fiscal year -- Microsoft's began July 1, 2015, and will end June 30, 2016 -- won't be disclosed until October 2016, the board pegged the stock part at approximately $7.9 million in a Sept. 15 filing with the SEC.
That was 60% of the $13.2 million that the board set as the target for Nadella's annual "equity award" when it hired him in February 2014.
(The dollar amount of Microsoft executives' equity awards can be calculated by multiplying the number of shares by the closing price on the last business day of August, the date the firm uses for all its top leaders' annual grants. On Aug. 31, 2015, Microsoft's shares closed at $43.52.)

Microsoft's board cut the stock award portion of the 2016 compensation packages of several top executives, reducing the grants to between 60% and 81% of the previous year's bonuses. Click on image to enlarge. Data: SEC
Microsoft, like most companies, sets targets for top executives' non-salary compensation: In Microsoft's case, that consists of cash bonuses and annual stock awards. The target amounts can be reduced by the board of directors as it evaluates executives.
"Performance metrics can be anything you want them to be," said Bob Buford, a Portland, Ore.-based compensation consultant. They can be financially oriented, operations oriented or based on whether the executive is outperforming their peers at other companies, he explained.
When Nadella was hired last year, the board set his 2015 salary at $1.2 million, his cash bonus target at $3.6 million -- the maximum 300% of his salary -- and his annual target equity award at the number of shares equal to $13.2 million. That third segment vests over the following four years.
Thus, for Microsoft's fiscal year 2015, Nadella was expected to make about $18 million, assuming he met performance goals. Nadella was awarded shares equal to $13.2 million in September 2014 as the equity portion of his compensation for fiscal 2015, with the first part of it vesting this year. Microsoft will reveal Nadella's 2015 cash bonus next month, when it files its annual proxy statement with the SEC.
Other top Microsoft executives' equity awards for 2016 fell too, according to SEC documents. Kevin Turner, the company's COO, was presented shares equal to $6.3 million earlier this month, or 66% of the $9.5 million he was given in 2014. Another top executive, CFO Amy Hood, was handed shares equal to $5.1 million, or 81% of the previous year's award. And Brad Smith, who was recently promoted to president, was awarded $3.9 million, or 78% of what he got last year.