MSI GS63VR Stealth review: A game-changing amount of performance in a laptop
Finally, a gaming laptop portable enough that you might actually bring it somewhere.
There's an old saying: You can have performance or portability in a gaming laptop, but not both.
Well, not anymore.
The MSI GS63VR Stealth is the first laptop I've seen using Nvidia's GeForce GTX 1060, and I'm suitably impressed. In fact, I'm blown away by the amount of performance that can be squeezed into a laptop that's actually portable.
How portable? On our postal scale, the laptop pushes just over four pounds sans power brick. Granted, it's not as featherlight as an ultrabook, but the Stealth is right in the neighborhood of the svelte Dell XPS 15 and Apple MacBook Pro 15.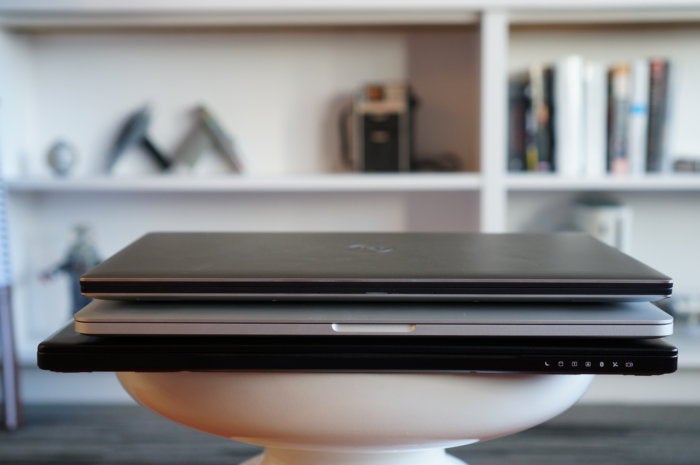 The MSI GS63VR Stealth is a little bigger than a MacBook Pro 15 (2013-2016) and Dell's latest XPS 15, but it packs a much bigger punch with its GeForce GTX 1060 GPU.
The build
Inside the Stealth, you get an Intel 6th-gen quad-core Core i7-6700HQ paired with 16GB of DDR4/2133 RAM. For storage, our $2,099 review sample (available for $1,999 on Amazon) came with a 512GB Samsung SM951 SSD and 1TB hard drive. Who makes the hard drive? Do you care? The 15.6-inch monitor is a wide-viewing-angle 4K panel with a light anti-glare coating.
Before you start complaining that this system should have a quad-core Kaby Lake CPU, you should know 7th-gen quad-core Kaby Lake CPUs won't grace computers until early next year, so this is the current state of the art.
The real star of the show is, of course, that GeForce GTX 1060. If you're not caught up on current events, Nvidia has dropped the "M" from its laptop GPUs because it feels its mobile parts are the equal of their desktop counterparts.
For the most part that's true, as you can see from this quick spec sheet I cobbled together: The mobile GPU has the same CUDA core count and memory bandwidth as its equivalent desktop chip. The main difference between desktop and laptop GPU is in the clock speed, where the notebook gives up a little bit of speed.
Nvidia's GeForce GTX 1060 for notebooks gives up a little clock speed but is otherwise identical to its desktop counterpart.
On the exterior, the laptop has the MSI "look and feel" but with plenty of gamer appeal. The backlit keyboard has three-zone lighting, and there's a 10-key number pad, but it's so small that anyone with big meat claws will find it challenging. The key action is okay, but not noteworthy. The same can be said of the piano-hinge trackpad, which feels metallic, but also works reasonably well.