MSI GS63VR Stealth review: A game-changing amount of performance in a laptop
Finally, a gaming laptop portable enough that you might actually bring it somewhere.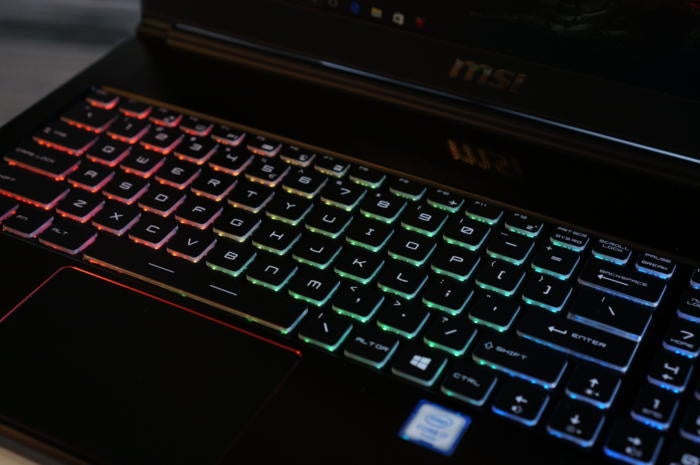 The keyboard features a three-zone backlight but it isn't particularly bright.
The shell itself is brushed magnesium-lithium. There's a slight give when you squeeze the body but nothing that would appear to compromise the device.
For ports, you get three USB Type A 5GBps, one USB Type A 480Mbps, a Thunderbolt 3.0 port, HDMI 2.0, and a Mini DisplayPort. You also get gigabit ethernet using a Killer NIC controller, an SD card reader, a Kensington lock, and two analog audio jacks. The Wi-Fi is also a KillerNIC part supporting 802.11ac.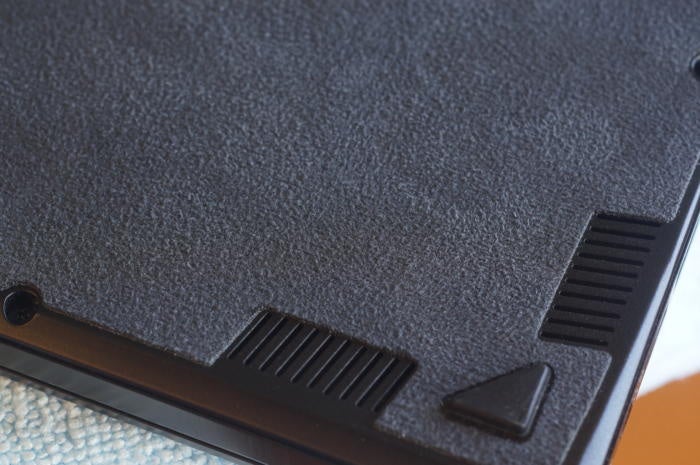 The entire bottom of the MSI GS63VR Stealth is covered with a suede-like material that actually makes it comfortable to use on your lap.
Performance
Since this is the first laptop I've received with a GeForce GTX 1060, I was very interested to see if it hit the bar Nvidia set for the desktop chip: equivalence with the GeForce GTX 980.
3DMark FireStorm Extreme Graphics
The first test is 3DMark Fire Storm Extreme. I've broken out the graphics score, a subscore of the overall performance, to assess the GPU.
For comparison, I looked at the results of behemoth gaming laptops that weigh between 8 and 10 pounds. I also threw in an older Razer Blade laptop with a GeForce GTX 970M.
The Stealth outpaces the Razer laptop as well as the Acer Predator 17's GeForce GTX 980M by a healthy margin. But it doesn't quite catch the GeForce GTX 980 chip in the Acer Predator 17X. Still, it's damned close.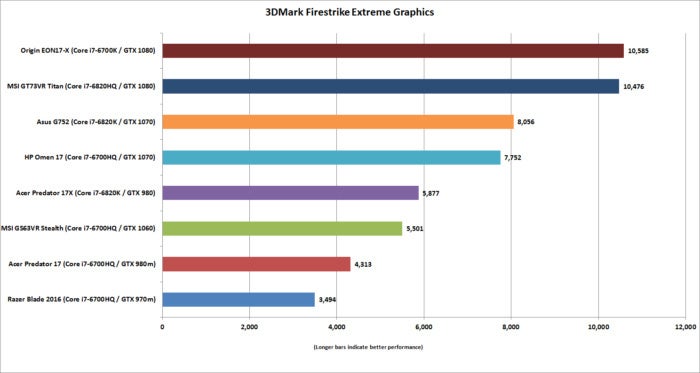 Considering its weight and size, the Stealth does very well against big burly laptops.
Most people like to see the overall score too, so I've included the results here. Remember, the overall score factors in the CPU, so it's not a surprise that we see the Acer Predator 17X with its Core i7-6820HK and better cooling push a little further ahead of the Stealth. And just to give you a sense of the full performance range, I've thrown in the overall scores I have from lower-powered GPUs as well.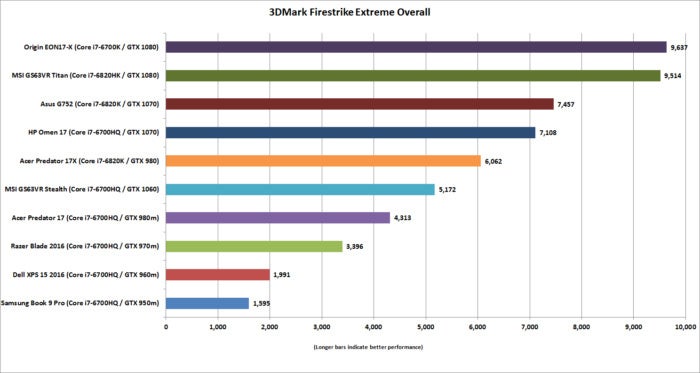 These scores include lower-end 15-inch laptops and show you the huge gulf between the bottom-end GPUs and the GTX 1060 in the MSI Stealth.
Tomb Raider
Tomb Raider is old at this point, but still a worthy real-world test if you want to see how a 3-year-old game performs on a laptop. The results are mostly weighted toward the GPU, but the benchmark does tend to like faster CPUs, too.
Previous Page 1 2 3 4 5 6 Next Page