MSI GS63VR Stealth review: A game-changing amount of performance in a laptop
Finally, a gaming laptop portable enough that you might actually bring it somewhere.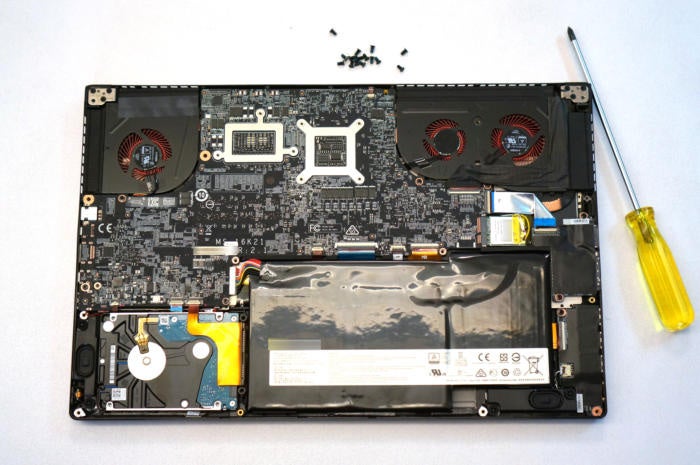 The MSI GS63VR Stealth uses a lithium-polymer battery and features but two small speakers.
The Stealth's results revealed pretty mediocre battery life, even though the Stealth uses Nvidia's Optimus, which shifts the workload over to the integrated graphics for lighter duties such as this test. For comparison, the Samsung Book 9 Pro also has a 4K-resolution screen (higher-resolution screens use more power) but its battery is more than 10 percent smaller than the MSI.
For what it's worth, this battery performance was also generated with the laptop on its "eco" mode. I saw about about half an hour less runtime when it was in "sport" mode and the keyboard backlight was on.
Basically, expect around three or four hours of battery life in general use. You can get more, but you'll have to crank down the brightness. The best option for those chasing better battery life might be to opt for the 1920x1080 version of the Stealth.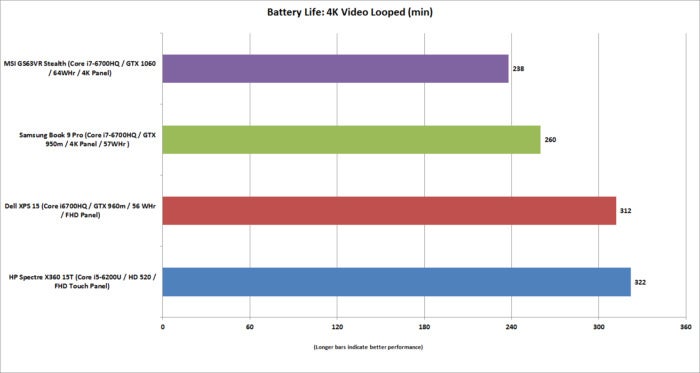 The Stealth's battery life isn't great, but it's not as bad you'd expect either.
Room for improvement
As much as the GTX 1060-equipped Stealth is a game changer, there's plenty that's far from perfect.
First, the panel. Its colors just don't pop and the screen isn't terribly bright overall. Just to hit the minimum brightness test for our video rundown, I had to run the Stealth brightness at 100 percent.
The 4K resolution panel also doesn't support G-Sync (Nvidia's adaptive refresh technology). This isn't all MSI's fault though, as G-Sync currently doesn't work with Optimus—and if MSI hadn't implemented Optimus, you'd likely get worse battery life, since the discrete GPU would run all the time. That said, trying to push gaming at 4K without G-Sync is pretty futile on a GTX 1060 (it isn't even a great idea on the next-step-up GeForce GTX 1070).
Since you don't have the horsepower to play at 4K UHD resolution, should you bother with the 4K panel? Especially if the panel doesn't zing like other 4K panels we've seen? Nope. Opt for the 1920x1080 instead, so you can run everything at or near Ultra settings.
Another weakness is the Stealth's audio. It consists of two small bottom-firing drivers in the front of the laptop. There's just no low- or midrange to them, and when they're cranked up, they'll occasionally rattle.
Conclusion
Despite its drawbacks, I'm still blown away by what the MSI GS63VR Stealth delivers—a 4-pound laptop that can play the newest games with settings at or near Ultra. That's just a tectonic shift of portable gaming capability we've just never seen before.
Previous Page 1 2 3 4 5 6 Next Page