New Apple TV: Siri and the App Store are the stars of Apple's new set-top box
Apple's set-top box is getting its long-awaited overhaul, with a serious emphasis on gaming.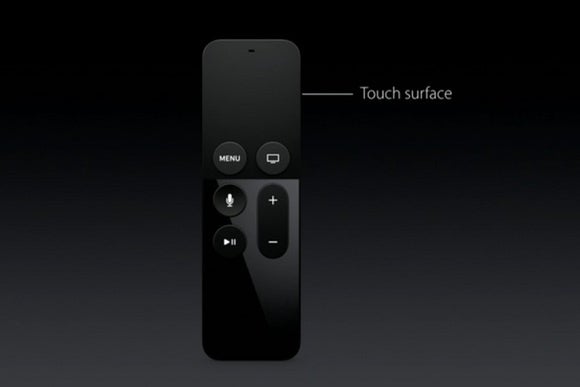 The remote does have a handful of physical buttons, however: a home button, a Siri button, a play/pause button, and a volume rocker. Whereas the previous Apple TV remote communicated strictly via infrared, the new remote uses Bluetooth, so users no longer need line-of-sight to the set-top box. Infrared is still included, presumably for controlling TV volume, and HDMI-CEC support will let Apple TV automatically turn on the television and switch to the correct input when you power it up. The remote's built-in battery lasts for three months, and recharges via Lightning cable.
Gaming out of the box
Apple is touting Apple TV as more than a media streamer. It's also a lightweight game console, following in the footsteps of Amazon's Fire TV and Google's Android TV platform.
The difference here is that Apple is building a console around its default, bundled remote instead of requiring users to bring their own controller. Onstage, Apple brought out the developers of Crossy Road to show off a multiplayer version of its iOS hit, and Rock Band developers Harmonix demoed a rhythm-sports hybrid game where players swing the remote like a baseball bat (similar to Nintendo's Wii remote).
Users will also be able to connect third-party controllers for navigating Apple TV and playing games.
Missing pieces
Apple's presentation left some questions unanswered. For instance, the company didn't talk about controlling Apple TV with other devices such as iPhones, iPads, and Apple Watches, and there was no word on any updates for AirPlay. It's unclear exactly what app developers can and can't do with the new SDK, and Apple didn't say anything about HomeKit integration either. Given how packed Apple's presentation was, we suspect some of these details will be filled in before launch.
Pricing and release date
Apple hasn't given an exact release date for the new Apple TV, but says it'll launch in late October. The base model will cost $149--more than twice the price of the current model--and will have 32 GB of storage. A 64 GB version will cost $199.