New Chromecasts revealed: Chromecast Audio streams music to dumb speakers
A big part of the Chromecast's allure—you know, besides its dirt-cheap US$35 price tag—lies in its simplicity.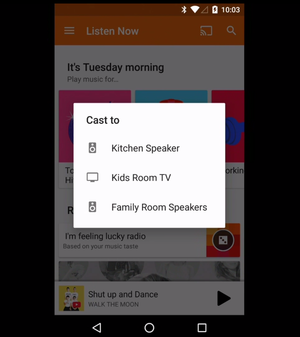 Casting music to a Chromecast Audio-connected speaker is as simple as casting video to a Chromecast-connected TV—the basic process is identical. It'll have a guest mode in case you have pals over who you want to control the beats, but who you don't want to have access to your Wi-Fi passwords. And an update later this fall will push out a pretty killer feature: multi-room audio sync. Be scared, Sonos.
Note that Chromecast Audio is not the same as Google's Cast for Audio program. Cast for Audio is baked into Internet-connected, higher-end sound systems and speakers, which allows you to beam music directly to those speakers using Google's Cast technology protocols. The new Chromecast Audio serves as a bridge to devices that don't come with Cast for Audio built-in.
Both Chromecast devices are available today in 17 countries for $35. The new Chromecast (not Chromecast Audio) will also be available in lemonade (yellow) and coral (red) in the Play Store.
The story behind the story: While Amazon's revamped Fire TV and Nvidia's Shield TV embrace advanced features like 4K video and game-streaming from PCs, Google's devices skips those high-end (and thus audience-limited) options for something aimed more towards the masses. Chromecast's newfound audio support for "dumb" devices is an exciting expansion into new-ground media streamers.