New Jobs movie: A quieter, more authentic portrait
This isn't an actor's portrayal; it instead relies on archival footage and interviews of people who knew Jobs personally.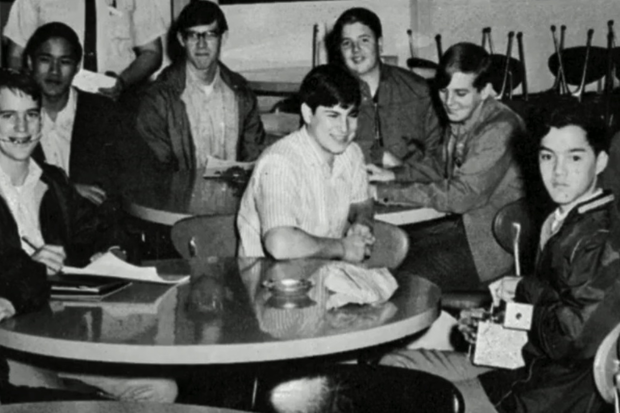 Footage of Steve Jobs throughout his life -- including attending this HP Explorer's Club meeting as a young man -- is featured in the new movie. Credit: Magnolia Pictures
This October, Michael Fassbender will join Ashton Kutcher among the actors to have played Steve Jobs. Aaron Sorkin's movie adaptation of Walter Isaacson's biography is one of many dramatizations of the life of Apple's co-founder, who died in 2011.
This week sees a quieter yet more authentic release in Steve Jobs: The Man in the Machine, available Sept. 4 in theaters and on iTunes from Magnolia Pictures. Rather than offering a straight biography, Academy Award-winning documentarian Alex Gibney sets out to answer a question: Why were so many people so moved by the death of someone who he describes as "ruthless, deceitful, and cruel"? If we loved products that came from someone also described as incapable of love, what does that say about the man?
To solve that mystery, Gibney narrates as he investigates Jobs and the people whose lives he touched directly. Unlike more dramatic films, this movie's Steve Jobs is played by Steve Jobs courtesy of such archival footage the 1995 "lost" interview, his 2008 deposition about issues related to the backdating of stock options, his Stanford commencement speech and his many MacWorld and WWDC appearances, including his last in June 2011.
Balancing these familiar reels are original interviews with employers and colleagues such as Atari founder Nolan Bushnell and 1984 commercial mastermind Regis McKenna, former lover Chrisann Brennan and travel buddy Dan Kottke, pop culture expert Sherry Turkle and reporters from Gizmodo and Fortune. Absent are the most well-known Apple employees Tim Cook or Jony Ive, or co-founder Steve Wozniak, and family, including Laurene Jobs and Lisa Brennan-Jobs (although an actor reads an excerpt of the latter's "Confessions of a Lapsed Vegetarian").