Nintendo is making all the right moves with Super Mario Run
The gaming icon nearly stole Apple's thunder at the iPhone 7 event this week.
You might have already played something like this. Ubisoft's Rayman Fiesta Run (and the almost-as-strong Jungle Run before it) is one of the absolute best examples of how to take a brilliant console game and make it just as strong of a mobile experience. And just as the core Rayman games learned their tricks from Mario, Nintendo seems to be taking cues from that kind of experience now in turn.
2. Making it premium is crucial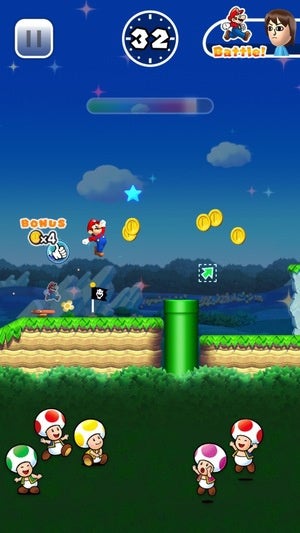 One purchase unlocks the full game, including the bonus Toad Rally social mode.
Actually, the mobile Rayman series did have a recent misstep: Last year's Rayman Adventures took the Fiesta Run formula, cut off the price tag, and loaded it with a lot of freemium tedium. The core game experience suffered because of the power-ups and peripheral annoyances, and the resulting game just wasn't as strong overall.
Thankfully, Nintendo seems to be avoiding that with Super Mario Run. The game will be a free download, which will help it land on many, many more devices than a paid app, but you'll only get a taste of the full game for free. Unlocking levels won't require watching video ads or waiting on timers. Instead, you'll just pay once to get access to the entire game. We don't know the price yet, but even if it's higher than the average mobile game, it'll probably be worth it.
That's an absolutely essential step—and a surprising one too. Partnering with mobile giant DeNA for iOS and Android games seemingly ensured that we'd see only free-to-play stuff, but the idea of muddling a classic Mario experience with in-app purchases, timers, and other freemium shenanigans seems like sacrilege. Putting a price tag on the experience was the only way to satisfy core Mario fans by keeping the console feel of the game intact. And I imagine parents will be pretty happy to just pay once and be done, as well.
3. It's good for both Nintendo and mobile gaming
Unsurprisingly, there have been plenty of hot takes on Super Mario Run over the last couple days. For instance, Engadget writer Sean Buckley says Nintendo is "[losing] a bit of its identity" with the game because it's not particularly innovative. However, neither were the previous New Super Mario Bros. games from which Super Mario Run borrows its visual style.
On the other hand, John Davison writes over at Rolling Stone that Super Mario Run is "Nintendo's ultimate Trojan horse" to get mobile players into not only console games, but maybe even console hardware too—especially with the NX looming. He also notes that Pokémon Go's success spurred sales of Pokémon console games and merchandise, and suggests the same could happen with Mario and Nintendo's own platforms.