Nvidia doesn't want to just dominate the graphics card market, it wants to own it
When AMD rolled out the Radeon R9 Fury X and R9 Fury graphics cards in June and July respectively it appeared the company might regain some lost ground and battle Nvidia once again for desktop GPU supremacy. Based on Nvidia's latest quarterly earnings report, however, it may be a long time before that happens.
What's more, one of GFE's major tabs is dedicated to streaming games from your PC to your Shield devices.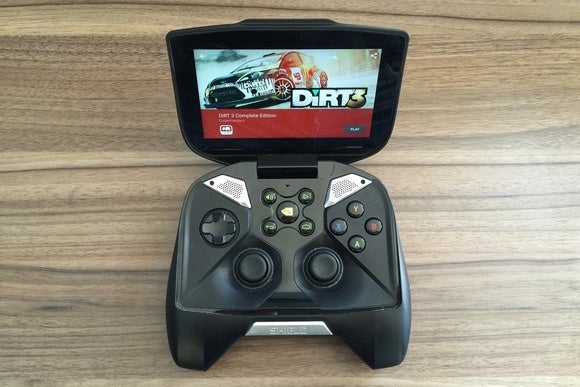 A GeForce Now-streamed game running on Nvidia's Shield handheld.
All of this activity adds up to a typical move we've seen played out by Apple, Microsoft, and many other technology companies: create products that encourage people to invest in and stay inside your ecosystem. PC gamers are a fickle sort and would readily swap out GeForce graphics cards in droves for AMD R9 GPUs if the gaming world started trending towards Team Red. Nvidia wants to counteract that possibility by making the world of Nvidia far more appealing. You might come to Nvidia for the graphics performance, but you'll stay for all the extra perks that come with being a GeForce graphics card owner—or at least Nvidia hopes so.
AMD fires back
That's not to say AMD is standing still. AMD recently cleaned up its user-facing software by retiring the long-in-the-tooth Catalyst Control Center and rolling out the Radeon Software Crimson control panel, which sports a sleek modern interface and useful tools like individual per-game overclocking profiles.
With the Fury X, AMD was the first out of the gate with graphics card designs rocking high bandwidth memory, which offer three times the performance of GDDR5 RAM. Nvidia, meanwhile, isn't expected to roll out cards packing HBM until the launch of its Pascal-based GPUs in 2016.
AMD also recently made some organizational changes by creating the Radeon Technologies Group to separate its CPU and GPU businesses into different units.
The change should make AMD better able to compete with the more nimble Nvidia, and PCWorld's massive graphics card roundup shows the new Radeon R300-series and Fury cards going toe-to-toe with GeForce's offerings across the board, and outright beating Nvidia's cards in some cases. It remains to be seen, however, if that's enough to claw back marketshare from Nvidia—especially with GeForce increasingly becoming a thriving, proprietary ecosystem of its own.