Nvidia GeForce GTX 950 review: Bringing more oomph to budget gaming PCs
Nvidia's new GeForce GTX 950 delivers a better-than-consoles gaming experience for just $150.
When Nvidia launched the $150 GeForce GTX 750 Ti way back in the beginning of 2014, it served as the grand unveiling for the company's new, supremely energy-efficient Maxwell graphics processor architecture. The insanely tiny card delivered a huge gaming boost over integrated graphics, and since it sipped a mere 60 watts of power, you didn't even need to connect the card to your power supply—it could run off the juice from your motherboard's PCI-E slot alone.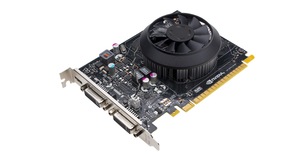 The radically small, radically power-efficient GTX 750 Ti, released in February 2014.
That radically changed the potential audience for the entry-level graphics market; you could even slap the GTX 750 Ti in a prebuilt PC (from Dell, HP, etc.) that had no free power supply connections. Maxwell was off to a roaring start.
Flash forward a year and a half: The GTX 750 Ti's form factor is just as enabling as ever, but when it comes to sheer performance, AMD's Radeon R9 270X kicks it in the teeth—so much so that we've long recommended the 270X over the 750 Ti unless space constraints dictate otherwise. And the older GTX 650—one of the most popular graphics cards among Steam users—is starting to get long in the tooth.
In the wake of the newly-released $150 AMD Radeon R7 370 (essentially a slightly tweaked, slightly faster version of the older R9 270X, which is also still available) Nvidia had to do something to even the score in the crucial, high-volume sub-$200 graphics card market.
Meet that something: The $160 Nvidia GeForce GTX 950. This new addition brings some much-needed additional firepower to the sub-$200 GeForce lineup, complementing—but not replacing—the GTX 750 Ti, which will still be sticking around.
Will the GTX 950 appeal to people looking to game respectably at 1080p resolution without breaking the bank? Let's dig in.
Inside the Nvidia GeForce GTX 950
The first thing you'll notice upon peering at the GTX 950 is that it positively dwarfs the GTX 750 Ti. This is a full-size, dual-slot graphics card that requires supplemental power via a 6-pin power connector, unlike its predecessor (though some partner models will feature shortened board lengths).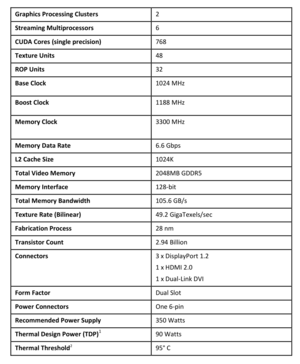 That's because the GeForce GTX 950's beating heart is a cut-down version of the 28nm GM206 GPU found in Nvidia's $200 GTX 960. Whereas the GTX 960 has 1024 CUDA cores, 8 streaming multiprocessors, and 64 texture units, the lower-cost GTX 950 packs 768 CUDA cores, 6 streaming multiprocessors, and 48 texture units—about a third reduction overall. Clock speeds have also been drastically reduced in the GTX 950, down to 1024MHz base/1188MHz boost.