Nvidia GeForce GTX 950 review: Bringing more oomph to budget gaming PCs
Nvidia's new GeForce GTX 950 delivers a better-than-consoles gaming experience for just $150.
The GTX 950 SSC boasts EVGA's ACX 2.0 cooling system, which we've seen used to great effect before with the GTX 960 and various other GPUs. The dual fans on the card don't even activate when GPU temps are hovering under 60C. Rather than diving into nitty-gritty details about ACX 2.0's triple 8mm straight heat pipes and double ball bearings again, here's a high-level look at the system.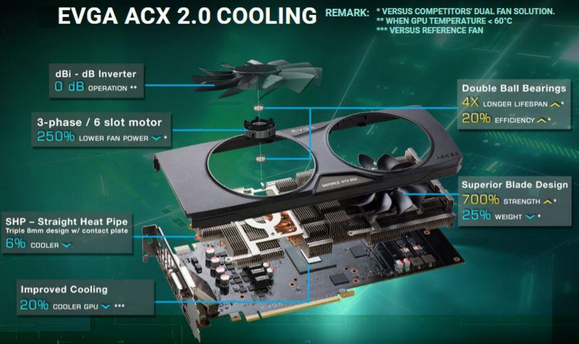 Finally, the EVGA GeForce GTX 950 also offers a dual-BIOS selector: With the flip of a switch, you can change between two profiles with different fans curves. One pushes fan RPMs as low as they can go when the card is idle, to reduce noise levels, while the "SSC Performance BIOS" keeps the pedal to the metal.
Whew! Now that all that's done, let's dig into the fun stuff—gaming benchmarks.
Next page: Gaming benchmarks and testbed configuration details.
As usual, we're reviewing the Nvidia GeForce GTX 950 using PCWorld's dedicated graphics card testbed. For deep insight into the system, check out our DIY build guide for the machine, but here's a high-level overview of the most relevant parts:
To get a feel for the GTX 950's place in the world, we compared it against several other graphics cards, including the GTX 950 Ti and an older EVGA GTX 650 Ti Boost, as Nvidia' press materials extensively compare the GTX 950 to the GTX 650. AMD and Nvidia's step-up $200 graphics cards—the R9 380 and GTX 960, respectively—we also tested. For a more direct Team Red vs. Team Green matchup, we've included results from Visiontek's R9 270X. Ideally, we'd test the GTX 950 against the newer R7 370, but AMD never sent us one as part of the bizarre Radeon R300-series launch, and the newer card uses a slightly tweaked version of the R9 270X's GPU, anyway. Plus, you still find ample R9 270X graphics cards in stock at retailers.
We tested the EVGA GTX 950 SSC two ways: With its native hefty overclock, and then by underclocking its base clock speed to 1024MHz to match the stock GTX 950's speeds. After that, the boost speed still clocked in at 1227MHz, higher than the stock 1188MHz boost clock—but hey, you do what you can.
Previous Page 1 2 3 4 5 6 Next Page