Origin EON17-X review: Hot and loud, but oh so fast
Origin shows off the glory of Nvidia's GTX 1080, but it comes with a heat and noise cost.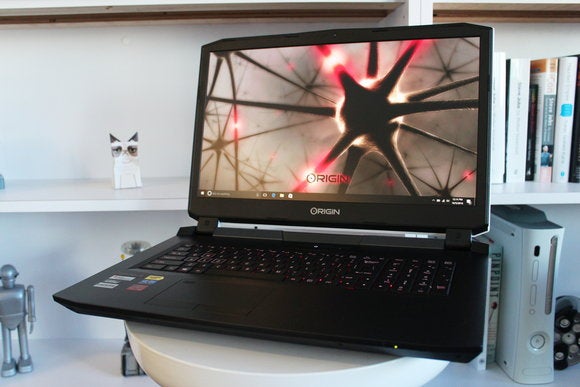 A time will come when we stop referring to machines like the Origin EON17-X as "notebooks." Instead, we'll just call them what they are: ultra-compact desktops with built-in displays.
Sure, you can pick up these laptops and take them with you, assuming you have a dolly or a gym membership. But aside from the form factor, systems like the EON17-X are desktop-class from top to bottom: Companies making high-end gaming PCs were already stuffing their notebooks with desktop CPUs, and now that Nvidia's Pascal "mobile" parts are essentially the same as their desktop counterparts, there's nothing particularly notebook-y about these machines anymore. Heck, they're not even a "desktop replacement" for most people, but more like a desktop upgrade.
That's especially true of the EON17-X. The model we received, which Origin sells for $3,572, packs all the latest and greatest parts inside its 17-inch body.
Maybe we should call these 'Deskbooks'
The EON17-X's no-holds-barred approach is nothing new for Origin. Last year, the EON15-X we reviewed sported a socketed Devil's Canyon Core i7-4790K CPU, and this year's EON17-SLX had both a desktop-class CPU and GPU.
This particular 9-pound behemoth (12-pounds with its massive power brick) keeps the trend going with a desktop Intel Core i7-6700K Skylake CPU—an unlocked part capable of exceeding its 4.2GHz boost clock. You also get Nvidia's brand-new Pascal-based GeForce GTX 1080. The beauty of graphics cards based on the Pascal architecture is that mobile parts use the same chip as the desktop versions—and while the GTX 1060 and GTX 1070 mobile GPUs differ slightly from their desktop counterparts, the GTX 1080 mobile part has the exact same specs as its big brother. That includes its 1,733MHz boost clock and 2,560 CUDA cores. So on the CPU and GPU front, you won't find any significant differences between this machine and an overclocked mid-tower desktop.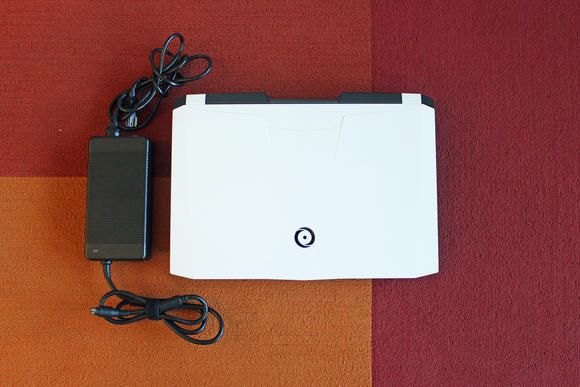 The EON-17X's power brick weighs more than three pounds on its own.
On the storage front, that pattern holds. This puppy rocks two 256GB Samsung 950 Pro M.2 PCIe-NVMe SSDs in RAID 0 via Intel's RST software. As a combined pair, they're good for 476GB of speedy storage for the OS and programs: We got almost 3GBps (yes, capital B) during sequential reads, and about 1.8GBps during sequential writes. Of course, no power user can currently survive on an SSD alone, so Origin also included a 1TB 5,400rpm hard drive in this build. You also get 16GB of DDR4 memory that cruises along at 2,666MHz.
Running at a glorious 3840x2160 resolution and measuring 17.3-inches, the display is beautiful and huge. It's also a G-Sync panel with a refresh rate of 60Hz, and comes with a matte coating (which we much prefer over a glossy screen). If you're hoping to save some cash by opting for a 1080p configuration, you're out of luck—you have to go 4K or go home. At least, if you want an Nvidia 10-series GPU. Older models with a 1080p screen exist, but only with 9-series Maxwell GPUs. We're cool with this arrangement, though, since the GTX 1080 is complete overkill for 1080p, at least on a 60Hz panel. MSI's newest Titan notebook with a GTX 1080 sports a 1080p panel, but it runs at 120Hz, which is also a good paring for those craving ultimate frame rates.