Origin EON17-X review: Hot and loud, but oh so fast
Origin shows off the glory of Nvidia's GTX 1080, but it comes with a heat and noise cost.
As far as expansion ports go, this high-priced 17-inch monster-book comes fully loaded —of course. You get not just one but two USB 3.1 Type C, four USB 3.0 Type A, gigabit ethernet, two Mini DisplayPort, an SD card reader, a lock slot, and audio inputs and outputs. The EON17-X also supports dual-band 801.11ac Wi-Fi and Bluetooth 4.1.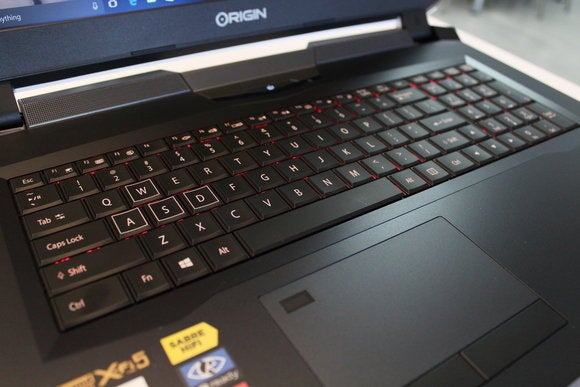 The audio also deserves mention—particularly since most laptop speakers aren't even worth talking about except to say how bad they are. The EON17-X actually sounds good, with plenty of volume to match the machine's overall size. It provides quite a bit of bass that you can actually feel, too. A Realtek audio chip controlled by Creative Labs Sound Blaster Xfi software is ruler of all this, and comes equipped with support for external 7.1 audio as well. You can fine-tune the audio to your liking with myriad options.
Finally, there are the keyboard and touchpad, which are the most comfortable and accurate that I've ever sampled on a notebook. On the keyboard, the keys lie flush with the surface (as opposed to an island, or Chiclet, design) and need just a small amount of travel to actuate. Their soft touch and positive feedback make it easy to type. A lot of laptop keyboards are mushy, but this one is tactile and firm.
The touchpad is also exceptional—so good that it reminded me of a MacBook trackpad. Its matte finish provides a little bit of traction for your fingertip as it glides over the surface, and I never accidentally double-clicked or mistakenly dragged a file. There's also a biometric scanner built into the corner for fingerprint-login duties.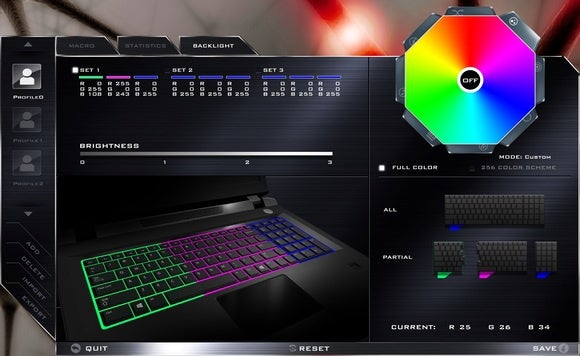 The keyboard also includes RGB lightning, though it's not per-key. Instead, you get three zones (left, right, and center) that you can tweak. The software that lets you customize the lighting is easy to use and lets you create profiles and macros as well.
Performance
Given this machine's specs, we expected it to be a killer, and we weren't disappointed. With its overclocked desktop CPU, desktop-class GPU, and two PCIe M.2 SSDs, it has everything a system needs to shatter benchmark records.
One thing to note: Because the EON17-X rocks a GTX 1080, it features Nvidia's GPU Boost 3.0. That allows the GPU to overclock itself based on its own guidelines of thermals and power. It'll overclock as high as it can before either running out of power or getting too hot, and if it approaches the limits of either, it'll just downclock a bit to keep things running smoothly. The official boost clock for this GPU is 1,733MHz, but in the real world, these GPUs can go much higher than that. We saw the EON17-X's GTX 1080 go as high as 1,923MHz—while the desktop GTX 1080 can usually go slightly beyond 2GHz, this GPU is wedged into a really tight spot with tiny fans, so its performance is impressive. Of course, it did run hot, getting up to 90 percent C. That's about 15 percent C higher than you'd typically see on a desktop part. However, it never crashed or acted weird, so it seems it's fine at these temps.
Previous Page 1 2 3 4 5 Next Page