Origin EON17-X review: Hot and loud, but oh so fast
Origin shows off the glory of Nvidia's GTX 1080, but it comes with a heat and noise cost.
Handbrake
For CPU testing, we ran our Handbrake benchmark to see just how the EON17-X's desktop part handled itself in a tighter and thermally constrained chassis. Given that this laptop's processor comes overclocked (it hovered around 4.5GHz, mostly), we were expecting another easy win versus the competition.
Not surprisingly, the EON17-X was among the fastest of the gaming laptops we've tested so far, taking just 38 minutes to encode our 30GB test file into an MP4 using Handbrake's Android Tablet preset. That was 29 percent faster than the Asus G752VS OC, which runs a Core i7-6820HK mobile processor at 4GHz—quite a step up.
Battery Life
Yeah, we know what you're thinking—who the heck would take a laptop this size off AC power, much less travel with it? Well, some people do, and most likely for simple things, like watching movies.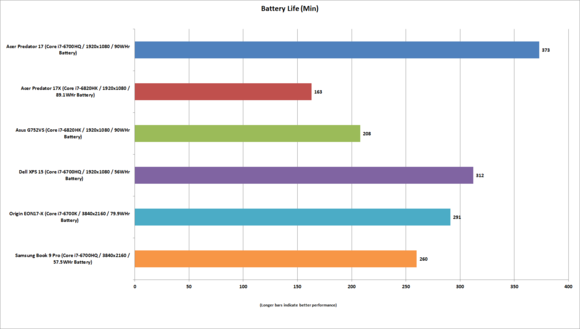 In our 4K video playback test, in which we run a 4K movie file on loop with the screen brightness set between 250 and 260 nits, the EON17-X ran for almost five hours (four hours, 51 minutes, to be exact). That's pretty good, but also not surprising. While these bigger systems suck down a lot of juice, their size also allows them to pack larger-than-normal batteries.
Conclusion
With the EON17-X, there's definitely a new "fastest single-GPU" deskbook on the streets. It's hard to conceive how a notebook could get any faster with today's parts, as this system pushes the thermal limits of laptop design. It's not that the temps themselves are concerning, since the system remained stable, but boy oh boy is the EON17-X loud. The CPU fan isn't too bad, but the GPU fan is high-pitched and audible from any distance.
Of course, this is a common drawback in gaming laptops, so it's certainly not a dealbreaker. (Even if it's so annoying that you'd have to wear headphones to drown out the sound.) While some laptops, like the Acer Predator, manage to be much quieter, they usually can't match a louder system in power. However, just as we were going to press we received a similarly configured MSI GT73VR Titan, which has the same GPU but a mobile Skylake Core i7-6820HK CPU clocked slightly lower than the EON17-X's at just 4GHz, and it was extremely quiet under full-load. In fact, it was so quiet we thought it might be running in its "Eco" power-saving mode. But nope, it was running full-blast. That's thanks to its mobile CPU, which is a 45W part compared to the 91W of the EON17-X's i7-6700K desktop part. That's more than double the wattage, and sure it's a bit faster, but the trade-off is a ton of extra (and unwanted) noise, so in our opinion the desktop CPU is a bit much thermally, and makes the system too loud.
Previous Page 1 2 3 4 5 Next Page