Pioneer XDP-100R review: This polished and flexible high-resolution audio player is loaded with features
Pioneer's great-sounding, feature rich, Android-based player's only major drawbacks are its lack of MacOS support and its bulky size.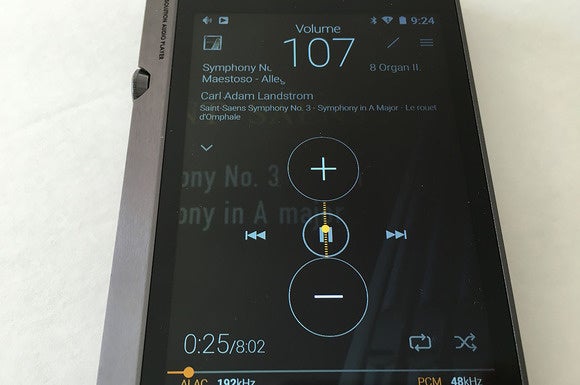 The volume level was clear and intuitive. Once active by turning the volume wheel, you could adjust it manually from the capacitive touch controls on the screen. Credit: Theo Nicolakis
A dizzying array of features
The XDP-100R comes with a vast set of features. You get 802.11ac Wi-Fi and Bluetooth with aptX for starters. There are three gain settings and an 11-band equalizer with five presets and an additional manual setting. You can choose from three digital filters, up-sample audio to 192kHz, fine-tune the conversion of DSD to PCM, and (if you connect the Pioneer to an external DoP-compatible USB DAC) you can even convert PCM audio to DSD before playback (DoP is an acronym for Digital over PCM). The comprehensive user manual and product specs page make for excellent bedtime reading.
Unlike its competitors, and true to its Android roots, Pioneer's player lets you install alternative music-player apps from the Google Play store. There's the default app, called simply "Music," or you can use the Onkyo Music app, which lets you purchase CD-quality or high-res music from the Onkyo Music Store (Onkyo is Pioneer's parent company). The full range of Android apps and services are also available.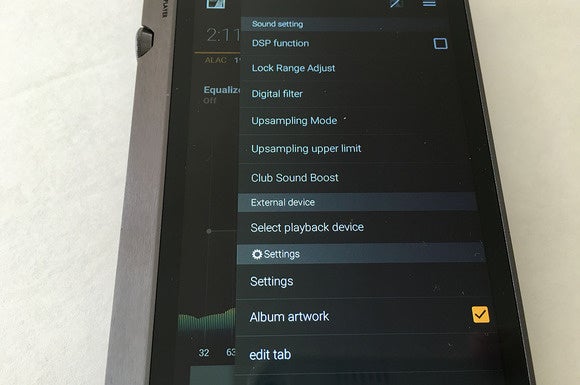 The Pioneer XDP-100R offered a dizzying set of settings and customization options.
Enter the world of MQA
Speaking of alternatives, the XDP-100R is the first high-res DAP to support native playback of MQA (Master Quality Authenticated) audio files. This is a big deal because MQA files have an embedded digital fingerprint certifying that the recording artist, recording engineer, or producer attests that the music was sourced from the original studio-master recording. That means the file you're listening to has been sourced form the highest-quality recording available. Now that doesn't necessarily mean that the track was recorded in high resolution, because that technology might not have been available in the studio at the time; but it does mean that you won't find a higher-quality track anywhere else.
A fast, smooth, and natural-feeling user interface
Unlike the Astell&Kern AK Jr and Questyle QP1R, the Pioneer's user interface is an absolute joy to use. First off, it's fast: No lag, no delays. Information is consistently displayed in a clear and fairly legible manner at all times. This was also the only player where I could search for music. I have a huge music library and used the search feature all the time.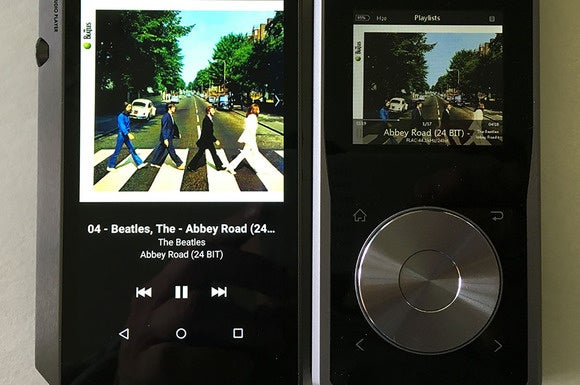 Compared to the Questyle QP1R (right), the Pioneer XDP-100R's screen showed more information that was far more legible. Credit: Theo Nicolakis
Previous Page 1 2 3 4 5 Next Page