Pioneer XDP-100R review: This polished and flexible high-resolution audio player is loaded with features
Pioneer's great-sounding, feature rich, Android-based player's only major drawbacks are its lack of MacOS support and its bulky size.
The Music app's interface gives you the full album's tracks if you swipe down, and you have access to the 11-band equalizer if you swipe up. Navigating between albums, songs, artists, and storage devices was a piece of cake. The only unintuitive and clunky thing was creating playlists. I found the Onkyo Music app much better for that task.
Custom playlists aside, there were some quirks too. Just about every single customized Android device that I've come across has some sort of quirk between the system settings and its apps. I didn't find anything major but the Pioneer follows suit. For example, when I enabled accessibility and increased the system font size, it worked on just about everything except on the native Music app. Increasing the system font size made no difference whatsoever. When I went to the included Onkyo Music app, however, font sizes changed according to my system preferences. While the Pioneer is the best player for people who need larger type, there's still room for improvement.
Mac users beware… for now
The Pioneer XDP-100R was the only player in our roundup that doesn't show up as an external disk for drag-and-drop file transfers. Instead, you must use the company's X-DAP Link software to transfer files. The software is great and allows you to synchronize folders on a Windows PC, but I ran into a problem: There's no version of the software for the Mac.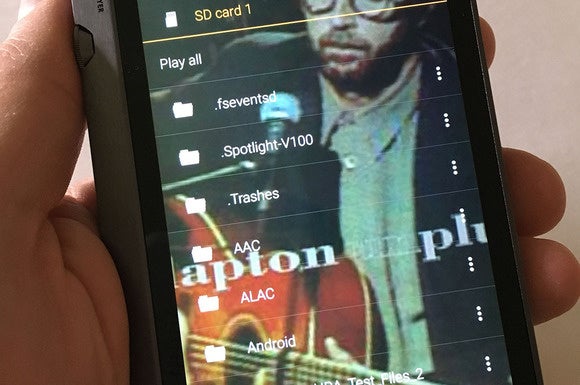 If I dragged and dropped files from a Mac to the microSD card on the XDP-100R, I'd see all the invisible UNIX system files—including Spotlight index and system trash folders. Credit: Theo Nicolakis
Pioneer told me that they are working on a Mac version; in the meantime, Mac users will need to download the Android file transfer utility to copy files between your computer and the player's internal storage. You can grab that here.
Well, what about microSD cards? That should be OK, right? Not so fast! If you're dragging and dropping files from a Mac onto a microSD card, the default Music app will display every single file on the microSD card—even hidden system files that the Mac writes to the card, such as the Apple Spotlight indexes.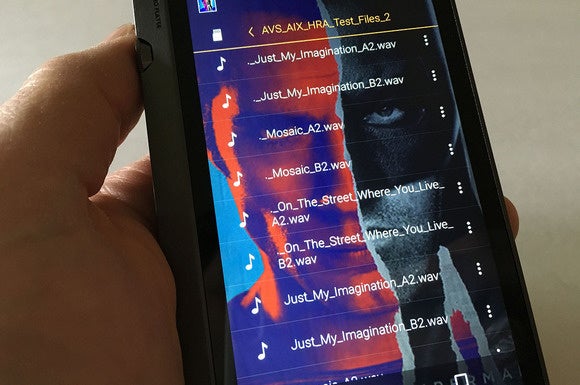 Dragging and dropping songs from a Mac to the microSD card revealed system-level files that should have remained hidden. Credit: Theo Nicolakis
This is a very big problem. Not only do you see irrelevant folders, but there were also instances where hidden files with the same names as my music files showed up (since these system files start with a period, they appear first in your track list, but nothing happens when you click on them.
Previous Page 1 2 3 4 5 Next Page