Pioneer XDP-100R review: This polished and flexible high-resolution audio player is loaded with features
Pioneer's great-sounding, feature rich, Android-based player's only major drawbacks are its lack of MacOS support and its bulky size.
So how does it sound?
Each of the music players I surveyed had a decidedly different sonic signature. While the Questyle QP1R was lush and euphonic, the Pioneer tended to lean towards an analytical, matter-of-fact presentation. That's not a criticism and I don't mean "analytical" in the pejorative sense. With any of these players, it's a matter of taste.
I felt that B&W's P7 headphones were a great sonic match for the Pioneer; in fact, through the P7s, I never got a sense that the XDP-100R tried to romanticize its sonic presentation (as some other sonic flavors tend to do) the Pioneer let me see deep into the details and complex layers of every track. For example, on the 96kHz ALAC version of Alison Krauss and Robert Plant's "Please Read the Letter," from Raising Sand, I could readily make out the fine texture of each drum strike and the nuanced decay of plucked guitar strings.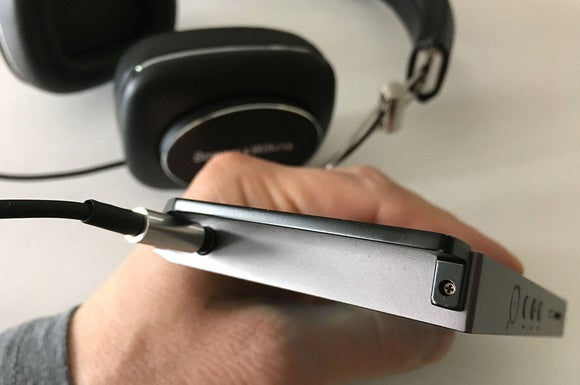 The top and bottom bumpers are removeable with a small Phillips screwdriver. I liked having the extra protection of the top bumper to prevent the 3.5mm plug from being bent or snapped.
When Plant and Krauss come together for the refrain, vocals were clear and clean. I could listen to the two of them harmonize and then in an instant shift my focus to either one or the other and make out audible gestures from from each one's vocals. Just as with live music, I had the ability to zoom in or pull back by audible lens and experience the song any way I wanted.
If you can't get strings right, then you have no business reproducing music. Thankfully the Pioneer didn't disappoint. The fiddle solo about 3:00 minutes into "Please Read the Letter" was smooth without a hint of harshness anywhere. The guitar lines from the 48kHz FLAC version of Patricia Barber's "A Taste of Honey" from Cafe Blue were, um, sweet. And Barber's vocals were rendered with full body.
Pink Floyd's Dark Side of the Moon and Wish You Were Here, Led Zeppelin II, the Beatles' Abbey Road, Eric Clapton's Slowhand, and Steely Dan's Gaucho headline a long list of high-res music albums I put to the test. Through them all, the XDP-100R displayed exceptional musicality.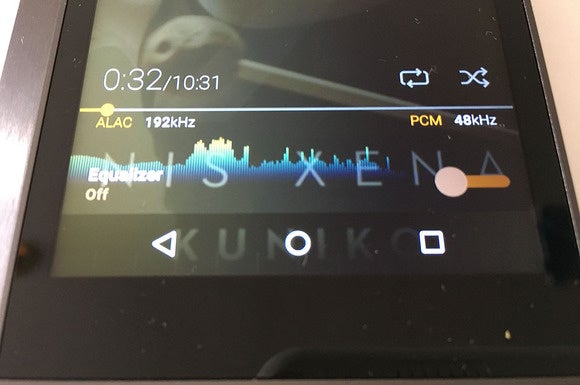 I was able to see detailed information about every song I played. Swiping down revealed the album song list and swiping up revealed the EQ settings.
I also downloaded high-res music versions of Star Wars: The Force Awakens and The Dark Knight Rises (among others) to compare them to their iTunes AAC counterparts. Comparatively speaking, I felt that the high-res music versions conveyed greater midrange clarity and better low-end dynamics than their lossy-encoded counterparts.
Previous Page 1 2 3 4 5 Next Page