Pronto Peel universal remote control review: Cheap and relatively powerful, but you get what you pay for
As long as your hardware has an IR receiver, the Pronto can probably control it.
The number of mission-specific remote controls we're forced to contend with in our lives grows every time we buy a new piece of A/V equipment. Have a cable box, a TV, a Blu-ray player, and a Hi-Fi? That's four remotes to lose in your couch cushions. Installing device-specific apps on your phone or tablet is no panacea, either. Controlling your TV with one app, your cable box with another, and your stereo with a third? Please.
To control this ever-growing tech tsunami, you have three options: You can spend your life searching your home for lost remotes and pray that the ones you find are the ones that you currently need. You can buy one of those expensive universal remotes—like the Ray Super Remote or the Logitech Harmony Elite—or you can pick up a less-expensive device that works in concert with an app on your smartphone or tablet, taking advantage of the latter device's processor power and touchscreen and sending commands to your entertainment center via an infrared blaster.
That's what the Pronto Peel universal remote does ($50, available at Amazon.com). The Pronto, and its companion app the Peel Smart Remote, will turn your iPhone, iPad, or Apple Watch into a universal remote control. Yep, this is an iOS-only solution, but Android fans with smartphones that built-in IR blasters can download the Android version of the Peel Smart Remote from the Google Play Store for free.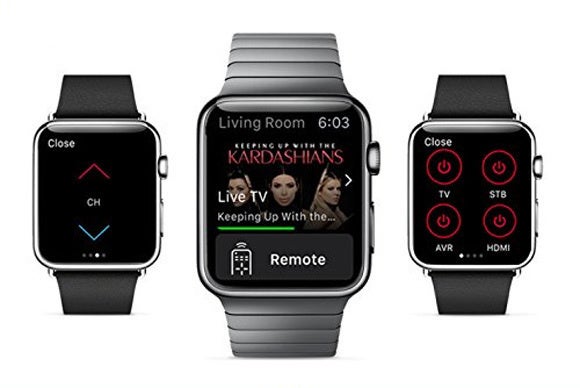 Installing the Pronto Peel app on your iOS device gives you the option of controlling your home theater with your Apple Watch. Credit: Pronto Peel
When you enter a command in the app, your iPhone, iPad, or Apple Watch fires off the order via Bluetooth to the Pronto which, in turn, translates the Bluetooth command into a blast of infrared light that travels to whichever piece of A/V hardware you're trying to bend to your will. It's an inexpensive, easy to set up system that works reasonably well—or at the very least, is less of a pain than trying to wrangle the four or five separate remotes that currently needed to run your home-theater system.
A snap to set up
The Pronto runs off of four AA batteries, which provide about a year's worth of service before they'll need to be replaced. That Pronto doesn't need any wires in order to work its voodoo also makes possible to set it up most anywhere and the 360 degree IR blaster built into the top of the hub will make sure that so long as your electronics' IR receivers are unobstructed and within the Pronto's 30-foot range, there won't be an issue with them receiving commands. Have hardware tucked inside a cabinet? The Pronto has that covered, too: it comes with an IR emitter on a 10-foot cable that can be threaded through the door.