Quad-channel RAM vs. dual-channel RAM: The shocking truth about their performance
Stop arguing. Benchmarks don't lie. We tested both kinds of RAM in the same PC. Check our charts to find out more.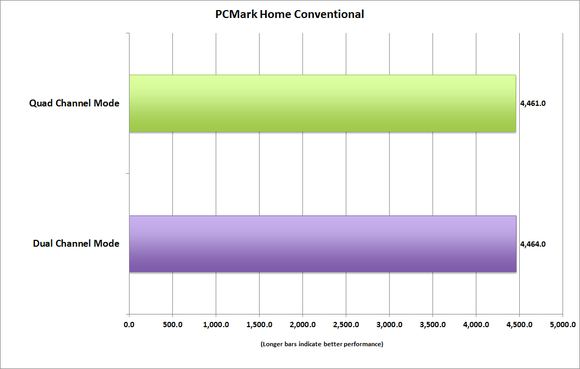 PCMark 8 Home Conventional test also shows a tie between dual-channel and quad-channel memory. Click on image to enlarge.
WinRAR
Like video encoding, file compression is one of the tasks that typically benefits from boatloads of memory bandwidth. To find out, I reached for WinRAR 5.21 and used its built-in compression benchmark. Finally I saw the increased memory bandwidth paying off—but not by much.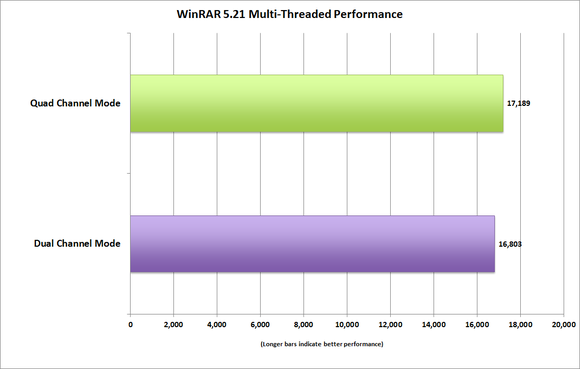 Despite file compression normally benefitting from memory bandwith, the difference in WinRAR is pretty tiny. Click on image to enlarge.
7Zip
I also fired up the beta version of 7Zip and ran its internal benchmark. I actually saw a decent boost from 7Zip, but again, I really expected more. I was almost ready to hang it up but decided to run some gaming tests, too, so keep reading.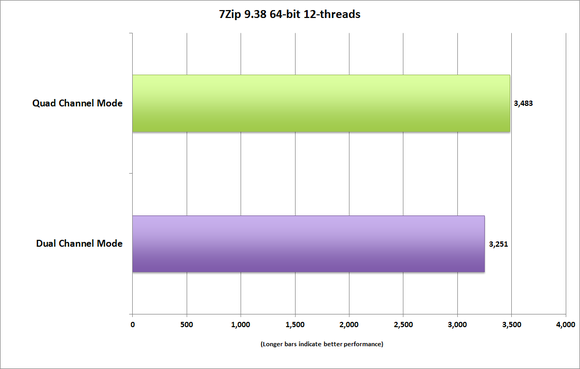 We do see an improvement from 7Zip's internal benchamrk but not as much as I'd expected. Click on image to enlarge.
Tomb Raider
For the final set of tests, I fired up a few games that aren't on the cutting-edge of graphics. The idea is to use older games that would not be bottlenecked by the GeForce GTX 970 in my testbed. It's a good card and a hell of a deal, but it's no Titan X. To remove any graphics bottleneck, I also ran the games at a fairly low resolution of 1920x1080, and picked lower image quality settings.
The result? Yup. You guessed it: No diff. Not at ultimate or high. Just squint your eyes and pretend the results are for both.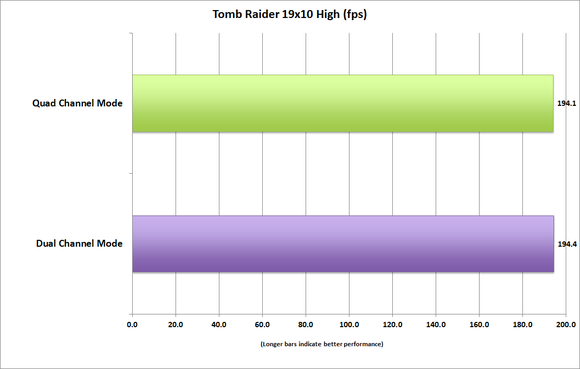 Running Tomb Raider with the system set to either quad-channel seems to make no difference either. Click on image to enlarge.
BioShock Infinite
And yes, BioShock Infinite didn't care either, even when pushing 200 fps. Like Tomb Raider, I actually ran the test at high and medium settings but decided not to waste bandwidth since it didn't matter.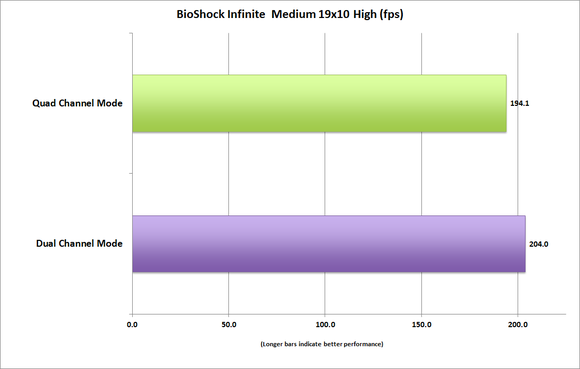 BioShock Infinite at medium settings also shows very little performance improvement. Click on image to enlarge.
Dirt Showdown
And yes, more of the same in Dirt Showdown. There's no reason to show you the three other settings I ran, because they're all just the same. Read on for my conclusion.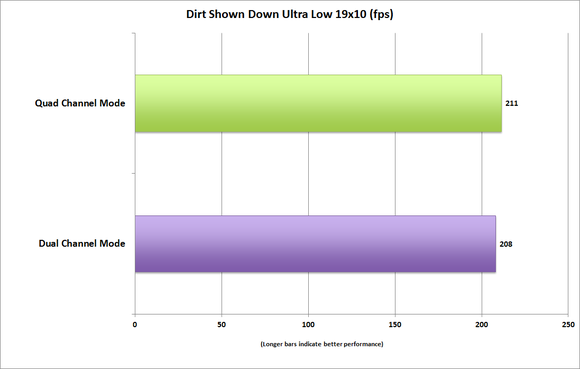 Dirt Showdown also shows it's a yawner. Click on image to enlarge.
Previous Page 1 2 3 4 Next Page