Questyle QP1R review: This high-res digital audio player sounds superb, but it's held back by a quirky click wheel
If you can get past its functional quirks, Questyle's player will reward you with lush, satisfying sound.
Questyle is looking to make a huge splash among audiophiles and music lovers with its QP1R high-res digital audio player. While the QP1R delivers lush sound and drives a wide range of headphones without needing an external headphone amp, it's blemished by a flawed user experience.
When I was preparing for this roundup, Questyle planned to send me their $599 QP1 player, which would have made it a much closer price comparison to the Astell&Kern AK Jr and the Pioneer XDP-100R. However, due to some supply constraints, they were kind enough to ship me their upscale QP1R, which sells for $899 (the "R" stands for "reference"). While it's the same shape and size as the QP1, the QP1R has higher-quality components, more onboard memory, and higher specs overall.
Back to the Future?
Looking at the QP1R, you'd swear you were back in 2001 because it looks so much like Apple's original iPod. It feels hefty and solid, being about the size of a deck of playing cards and weighing in at 6.9 ounces. The top half of the player sports a color display while the bottom half is dominated by an old-school click wheel (Questyle calls it a steering wheel).
The knurled volume-control knob at the top right of the unit recalls the stem on an analog watch. It's protected on two sides by a metal phalanx rising up from the body, so the only way to adjust the volume with one hand is to use your index finger. That makes it difficult to use with one hand.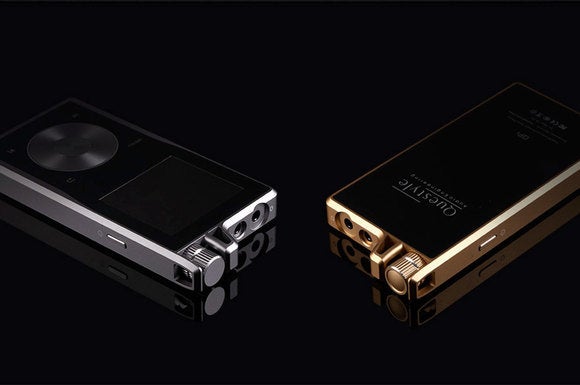 The Questyle QP1R's stem-like volume control is one of its most distinctive design elements. Credit: Questyle
There's nothing retro about what's under the QP1R's hood, starting with Cirrus Logic's incredibly powerful CS4398 DAC, which is capable of decoding high-resolution music files with up to 24-bit resolution and sampling rates up to 192kHz. That chip can also decode DSD128, 5.6MHz music files without converting them to PCM first. Sadly, Questyle has no plans to support MQA tracks with this model.
There's 32GB of onboard storage and two microSD expansion card slots capable of supporting cards up to 200GB each. But be warned: there are some 200GB microSD cards that don't play nicely, so be sure to buy a reputable brand.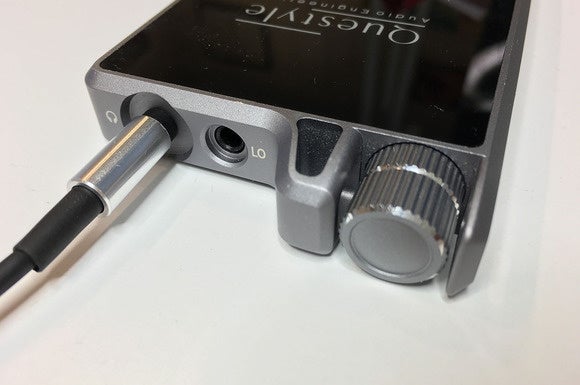 The 3.5mm line-out jack next to the headphone jack is also a Toslink output. Credit: Theo Nicolakis
The QP1R lacks the wireless features you'll find on competing players: Bluetooth and Wi-Fi are absent. You can't use it as a USB DAC, either. Questyle didn't omit those features to cut its manufacturing costs. It left them out in the audiophile's belief that they're unessential components that could potentially, however negligibly, compromise the player's audio performance.