Questyle QP1R review: This high-res digital audio player sounds superb, but it's held back by a quirky click wheel
If you can get past its functional quirks, Questyle's player will reward you with lush, satisfying sound.
One feature the QP1R has that the other two players don't is a Toslink digital output in addition to its analog headphone output (both are 3.5mm). Questyle includes a Toslink cable in the box.
The steering wheel: A problem waiting to happen
I won't mince words: Questyle's steering wheel is a disaster. It's not even a stationary, touch-sensitive wheel like what was on the old iPods (or even the first-generation Sonos controller, for that matter). Questyle went with a mechanical wheel, a design that Apple left behind because over time you'd start to have issues such as imprecise, phantom movements. You'd highlight something and then just as you're about to click select it, the selection would nudge up or down.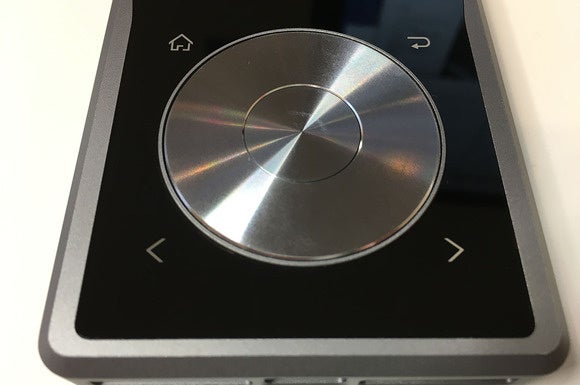 Questyle's steering wheel is a navigational disaster. Credit: Theo Nicolakis
While the iPod's click wheel was sensitive to a light touch, the QP1R is at the opposite end of the spectrum: You must press down on the steering wheel with some force. Use a light touch and you'll think it's moving when it's not. Pressing the outer edge yields better results, except that you run the risk of activating one of the touch-sensitive buttons surrounding the wheel. I accidentally ended up on a previous menu and on the home screen a few times after doing this. Questyle must have received complaints about the steering wheel because they offer a textured pad that you can affix to it. I didn't get one with my review unit, but I would highly recommend it to anyone who buys a QP1R.
The steering wheel renders awkward such common tasks as marking songs as favorites and adding a song to a playlist. To do either, you must play the song you wish to mark and then press and hold the home button. A small menu item will appear, giving you the option of adding the song as a favorite (with a small heart), adding it to a playlist, or deleting the song altogether. Because there's no keyboard available, your playlists are identified simply as Playlist 1, Playlist 2, and so on. I guess that won't be a problem if you a) have an excellent memory, or b) don't have many playlists. You can evidently copy playlists from JRiver Media Center or iTunes, but good luck managing those tasks manually.
For all my bashing of the steering wheel, I don't consider that one shortcoming to be a deal-breaker. It's not impossible to master given enough patience. You can also use the forward and reverse buttons just below the steering wheel to accomplish most of the same navigational tasks.
Previous Page 1 2 3 4 Next Page