Questyle QP1R review: This high-res digital audio player sounds superb, but it's held back by a quirky click wheel
If you can get past its functional quirks, Questyle's player will reward you with lush, satisfying sound.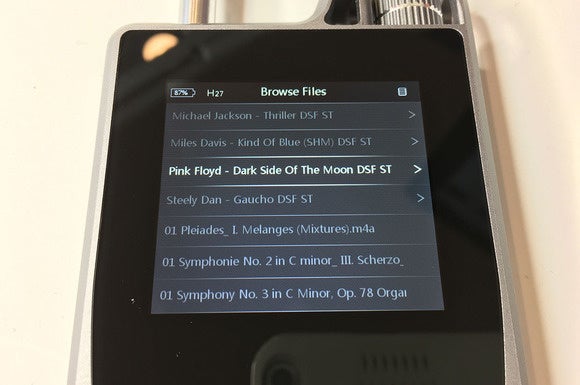 The font size is tiny and there are no graphical cues to show you different albums. Credit: Theo Nicolakis
So you have golden ears; how's your eyesight?
If you have trouble reading small text, stay away from the Questyle. Not only is its screen the smallest in this roundup but its display fonts are tiny—and I mean tiny. Questyle confirmed that there's no way to make the text any larger.
Don't try using the QP1R in direct sunlight, either; it becomes very difficult to see the screen other than the highlighted selection. And when you're playing a song, the artist' and album's names scroll across the lower-left corner in an even smaller font.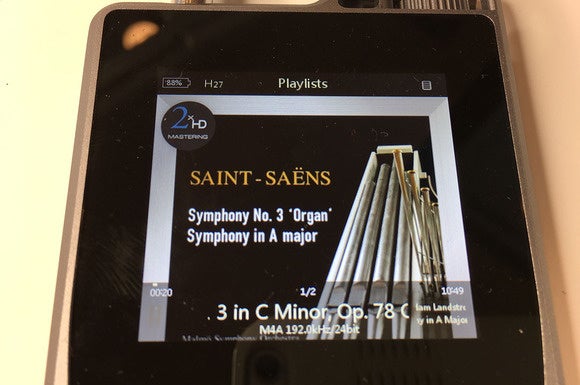 The information displayed on the Questyle's already small screen is tiny. Try deciphering the album information in the lower-left corner. I've read footnotes printed with larger fonts. Credit: Theo Nicolakis
I could have been more tolerant of these shortcomings if this wasn't the most-expensive player in our roundup, and if the user interface on the lower-priced Pioneer XDP-100R's user interface wasn't so smooth and elegant.
Made for high-end headphones
If you own really good headphones—especially high-impedance models that are difficult to drive—take note: One area where the Questyle shines is its ability to drive a wide variety of headphones. The QP1R features Questyle's patented current mode amplification technology, combined with Class A circuitry. Audiophiles covet Class A designs for their lack of distortion.
To help match the QP1R with your particular headphone brand and type, there are three gain settings (low, medium, and high). As a general rule, the low settings are recommended for use with in-ear monitors, and the high gain setting is recommended for over-the-ear headphones. If you really want to nail down the right setting, Questyle has published a PDF listing a number of audiophile-class headphones and their recommended gain settings.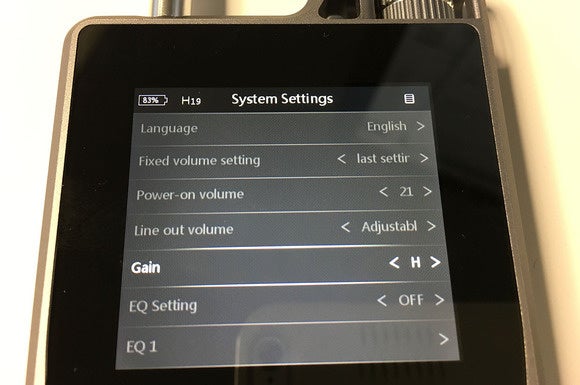 The QP1R has three gain settings to help you match your headphones. Credit: Theo Nicolakis
So how does the QP1R sound?
I didn't mince words about the user interface and I won't about the sound either. If you're wishing that the QP1R's sound redeems its other shortcomings, then your wish just came true: This high-res DAP sounds warm, smooth, beautiful, and endlessly engaging.
This player delivered an incredible sense of musical presence, whether it was sessions with the B&W C5 in-ear monitors, the B&W P5 on-ear headphones, or the B&W P7s, the QP1R embraced them all and brought out the best in each. As good as the AK Jr and Pioneer XPD-100R are, they sound colder and more analytical when compared to the Questyle's device.
Previous Page 1 2 3 4 Next Page