Renewable energy represented more than half of all new power capacity in '15
Wind turbine power is projected to supply up to 20 percent of global electricity by 2030.

Hydropower and wind are the two largest contributors to the increase in world electricity generation from renewable energy sources. Credit: NASA
Renewable energy represented more than half the new power capacity in the world in 2015, reaching a record 153 gigawatts (GW) -- 15% more than the previous year, according to a new report.
Most of the gains were driven by record-level wind additions of 66GW and solar photovoltaic (PV) installations of 49GW, according to the the report from the International Energy Agency (IEA).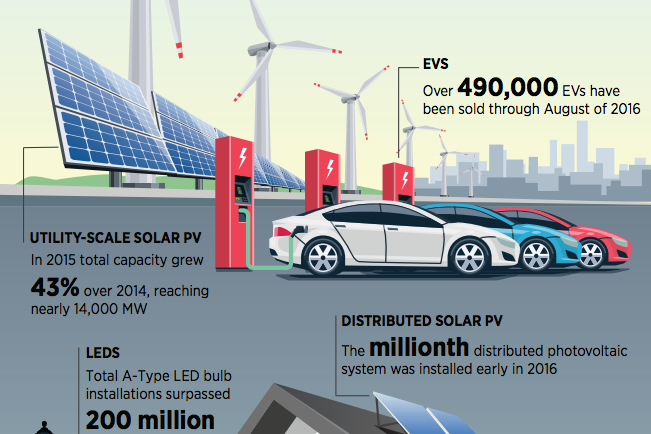 Credit: U.S. Department of Energy
The IEA projects global renewable electricity capacity will grow by 42%, or around 825GW by 2021. That's up 13% from the IEA's projections in 2015.
Wind accounted for 41% of all new electrical generation capacity installed in the U.S. in 2015, according to the the U.S. Department of Energy's Revolution Now: Update 2016 report. In 2015, total utility-scale solar power capacity in the U.S. grew 43% over 2014, reaching nearly 14,000 megawatts (MW).
The report also noted the price of renewables has fallen by as much as 94% in the last eight years due to "huge strides in research and investment."
Renewable energy generation costs now range from $30 per megawatt hour (MWh) to $50 MWh for both onshore wind and solar PV. Utility-scale solar power costs are expected to drop by about 25% from now through 2021. Onshore wind generation costs are expected to drop 15% on average by 2021.

The cost of power from wind turbines. Credit: U.S. Department of Energy. (Click for larger image).
India is expected to be one of the world's fastest growing markets for renewables. Along with China, it is planning to deploy 100GW of new solar power between now and 2022.
For example, the India Oil Corp. and Oil India just announced $3.1 billion worth of projects to develop 2.7GW of new solar power capacity in that country.
The global wind industry had another record year in 2015. Overall, by the end of 2015, about 433GW of wind power was being generated around the globe, 17% more than in 2014; and wind power supplied more new power generation than any other technology, according to the Global Wind Energy Council.

The cost of solar power from utilities. Credit: U.S. Department of Energy. (Click for larger image).
In the U.S. there are nearly 2,800 electric power-generating sources producing 4.1 terawatt hours of energy. (A terawatt is equal to 1,000 gigawatts.) The country's 49,000 wind turbines account for 4.7% of the country's electricity production, according to the U.S. Census Bureau.