Review: HP's Elite x3 is too much smartphone, not enough PC
We've seen this 'one device for everything' movie before, and it ends just as badly this time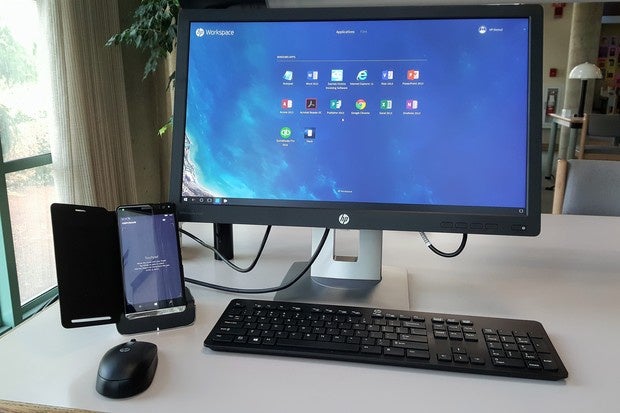 Imagine being able to carry around your PC in your pocket, using it as a smartphone by itself and as a full-fledged PC when connected to a display, keyboard, and mouse. For people who work on the road or in multiple locations, that sounds like nirvana. Ditto for shift workers, from call centers to retail associates, where you have more employees than terminals at any given time.
That's exactly what HP's $799 Elite x3 claims to be: a Windows 10 Mobile smartphone that transforms into a full PC when you connect it to desktop peripherals, whether via a dock or wirelessly. But the Elite x3 isn't a full PC, because of Windows and Office choices that Microsoft has made -- and it can't be one. Thus, the Elite x3 falls short of its core promise. Plus, it's an awkward smartphone you won't want to carry around.
The PC industry and the mobile industry are both trying to figure out how to evolve, with PC and tablet sales declining, and smartphone sales stabilizing. Innovation for those various form factors has also stalled, causing Apple, Google, Microsoft, and others to rethink these devices as a continuum of clients called omnidevice.
The Microsoft Surface Pro, Apple iPad Pro, Google Pixel-C, and other tabtops are one example of this experimental evolution. So too is Google's enabling of Chromebooks to run Android apps, and its rumored ultimate merger of Android and Chrome OS -- as are mobilelike laptops like Apple's MacBook 12 and the array of 2-in-1 hybrid Windows laptops out there.
The Elite x3 joins this parade -- but it's not a new idea. Motorola tried a similar move five years ago in the form of its Atrix Android smartphone, which you plugged into a Motorola Lapdock laptop-style dock and could then run both native Android apps and the desktop Firefox browser (for websites, not PC apps). Sadly, the Atrix and Lapdock were an awkward, limited combination. Android apps didn't scale up to take full advantage of the laptop's screen, for example.
This isn't the Windows or Office you're looking for
The HP Elite x3 relies on Windows 10 Mobile's Continuum feature to run apps at full monitor resolution when connected to an external display.
The Elite x3, by contrast, does scale up mobile apps using Window 10 Mobile's Continuum feature, so those Windows 10 Mobile apps look and feel like native desktop Windows apps when you're using an external display. iOS can't do that, nor can Android -- the best you get on those operating systems are apps that self-configure for a smartphone or tablet screen, but not for external displays.