Rise of the celebrity tech entrepreneur
Suddenly, Hollywood stars want to play the role of software mogul and hardware creator.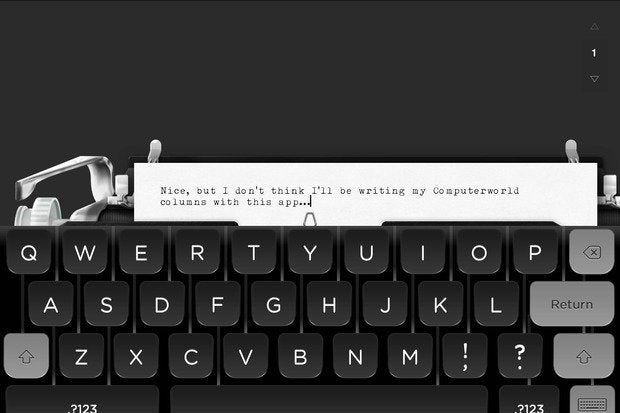 Tom Hanks helped build an app that created iPad versions of vintage typewriters.
California is a house divided, with global entertainment powerhouse Hollywood in the south -- epicenter of the movie, TV and music businesses -- and global technology powerhouse Silicon Valley in the north.
It's no secret that Silicon Valley wants to invade Hollywood with disruptive Internet-based content distribution systems and computer-generated everything.
But now Hollywood wants to invade back. In fact, some of Hollywood's biggest stars have tried their hand at launching and running technology companies and helping to design products.
Some of these celebrities are serious about it and have come out with some surprisingly good or ambitious projects.
Let's take a look at what five celebrities are doing in technology.
Damon Wayans
Damon Wayans is best known as a comic TV and movie actor from Saturday Night Live, In Living Color, The Last Boy Scout, Major Payne and the sitcom My Wife and Kids. He's also had a 30-year career in standup comedy.
That's why it might have surprised his fans to see him this week appearing as a special guest on the TWiT show Triangulation, an interview show with technology luminaries, and also moderating a panel at the Samsung Developer Conference. (Full disclosure: I host a show on the TWiT network called Tech News Today.)
Wayans is a partner with Samsung. He developed an app for creating and sharing business cards called FlickDat, which is bundled with Samsung's flagship Galaxy S5 smartphone.
Wayan's company makes nine Android apps and one iOS app.
Kim Kardashian
Professional celebrity Kim Kardashian was interviewed by Kara Swisher at Re/code's Code Mobile event late last month.
Part of the reason is that Kardashian is involved to some degree in a popular game called Kim Kardashian: Hollywood, which boasts that it gives players the opportunity to "create your own aspiring celebrity and rise to fame and fortune!" Kardashian is less involved in the development of the game, and more involved in making it popular.
Kardashian was also in the news last month when it was revealed that she not only loves, but hoards, BlackBerry phones. She told Swisher during the interview that she buys extra copies of an older, physical keyboard model of the BlackBerry because she's afraid something will happen to her main one. She uses the BlackBerry for communication but an iPhone for social media posts.
Will.i.am
Will.i.am, is best known as a founding member of the Black Eyes Peas, and also as a music producer.
Last month, he unveiled a $499 smartwatch called the Puls (pronounced like "pulse"), which he funded and claims to have designed.