Solar windows can power buildings
Not only do solar windows produce power, but some reduce heat

Researchers view the Colorado Rocky Mountains through an electricity-generating SolarWindow module. Credit: SolarWindow Technologies
Manhattan has approximately 47,000 buildings with around 10.7 million windows, according to a 2013 estimate from The New York Times.
Now imagine if just 1% -- or 100,700 -- of those windows could generate electricity because they were embedded with transparent photovoltaics.
That's the idea behind solar windows, and at least two companies are hoping to sell the technology to window manufacturers, saying once installed in a building the technology will pay for itself in about a year.
"If you look at the glass that's manufactured worldwide today, 2% of it is used for solar panels; 80% of it is used in buildings. That's the opportunity," said Suvi Sharma, CEO of solar panel maker Solaria.
Solaria uses existing photovoltaic (PV) cells and slices them into 2.5mm strips. It then sandwiches those thin PV strips between glass layers in a window. "The way human eye works, you don't even notice them," Sharma said.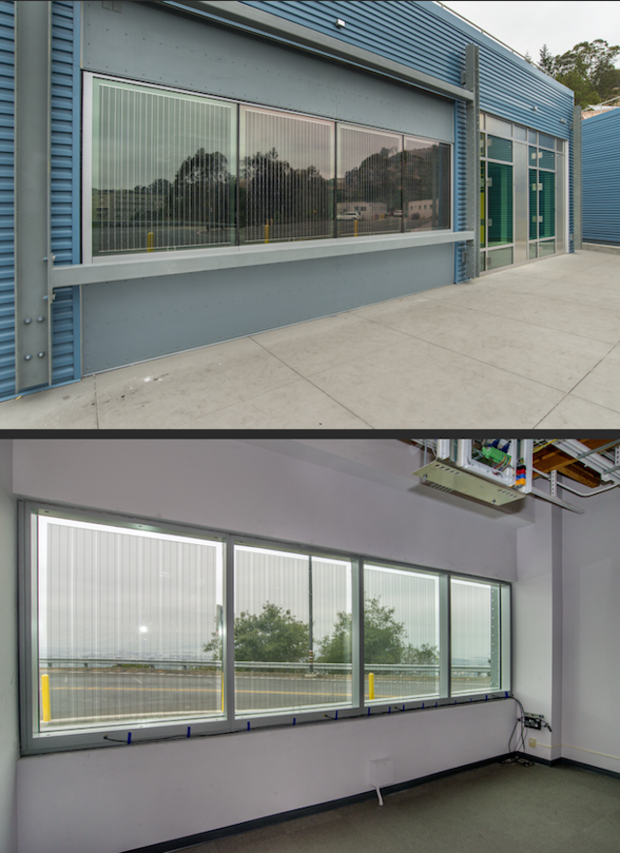 Solaria
Solaria uses photovoltaic cells cut into 2.5mm strips and embedded in window glass in order to generate electricity. This is what a typical system would look like.
An additional benefit? As the PV strips absorb light striking a building's window, they reduce the "solar heat gain coefficient"; in other words, the windows reduce the sunlight's effect on a building's internal air temperature and thereby lower air conditioning costs.
Solaria is targeting its technology for windows that will be installed in newly constructed buildings.
Another company, SolarWindow Technologies, is pitching a different form of transparent PV cell technology for new construction, replacement windows and retrofits to existing windows.
SolarWindow is using what it calls organic photovoltaics, which can vary in color and transparency. The company is planning to announce its product in a couple of weeks.
SolarWindow CEO John Conklin said what sets his company's technology apart is its ease of integration. Because it's based on a PV film, it can be adhered to existing windows or incorporated into manufactured products relatively easily.

SolarWindow Technologies Electricity generating SolarWindow module that is being developed in architecturally neutral colors.
Depending on the number of south-facing windows, which receive a majority of the sun's light, and the building's location in the U.S., Solaria's technology could provide from 20% to 30% of a skyscraper's energy needs, Conklin said.
Conklin would not disclose exactly which organic material SolarWindow uses.