Solar windows can power buildings
Not only do solar windows produce power, but some reduce heat
In 2013, however, Oxford University researchers released the results of a study on how neutral-colored, semi-transparent solar cells made of perovskite could be used in building and car windows to generate electricity. Perovskite is an oxide used in ceramic superconductors.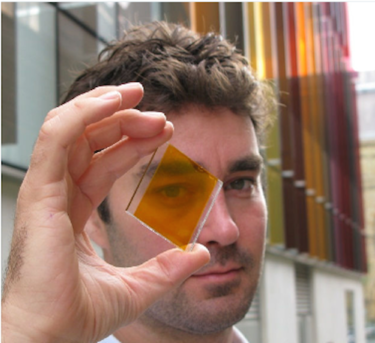 Oxford Energy Oxford University professor Henry Snaith holds up a clear piece of glass that has a transparent perovskite solar cell film on it.
The Oxford researchers said they could create transparent solar cells with comparatively high efficiencies. For example, the researchers were able to drive PV efficiencies up to 20% in a "remarkably short period of time" using a simple cell architecture.
The university's work is being commercialized by Oxford Photovoltaics (a spin-out company), which is planning to produce attractively colored and semi-transparent glass, which works as a solar cell and could be integrated into the facades of buildings and windows.
Similarly, a team of researchers at Michigan State University (MSU) has developed a new type of transparent solar concentrator that when placed over a window creates solar energy.
Called a transparent luminescent solar concentrator (TLSC), MSU's technology can not only be used on building windows but also on cell phones and any other device that has a clear, uncolored surface.

Yimu Zhao A team of researchers at Michigan State University has developed a new type of transparent solar concentrator that when placed over a window creates solar energy.
Richard Lunt of MSU's College of Engineering said the key to the TLSC technology is that it's completely transparent.
"No one wants to sit behind colored glass," Lunt, an assistant professor of chemical engineering and materials science, said in a statement. "It makes for a very colorful environment, like working in a disco. We take an approach where we actually make the luminescent active layer itself transparent."
MSU's solar harvesting technology uses small organic molecules developed by Lunt and his team to absorb specific nonvisible wavelengths of sunlight.
One problem with MSU's technology is that more work is needed to improve its energy efficiency. Currently it is able to produce a solar conversion efficiency close to 1%, but the researchers hope to achieve efficiencies beyond 5% when fully optimized.
Today, traditional solar power panels that reside in solar farms or on building rooftops can achieve a PV efficiency of about 15% to 20%. The efficiency rating refers to how much of the photons striking a solar cell are converted into energy.
Solaria's solar window technology can achieve a solar effiency of about 8% to 10%. SolarWindow's Conklin would not disclose his company's technology efficiency rating, but did say it was less than standard PV panels.