Solartab review: A robust solar/battery combo that doesn't scratch most itches
Everything about the Solartab is fine, but it's in search of a solution as a combination product.
Using a USB power measurement device, I then drained it again and recorded about 3,500 mAh after converting units for its 3.6 V battery. That's enough to charge an iPhone 6s fully about one and a half times, or bring an iPad Air from 0 to maybe 30 percent, buying several hours of continuous video playback, for instance.
With a little more effort in changing position, I could have eked out perhaps 10 to 30 percent more charge. And later in the year, it's possible with perfect positioning and a cloudless day, I might have doubled the overall charge. (The company says in the right circumstances, the battery should recharge to its full capacity in 12 hours, or averaging a reasonable 1 A plus some change.)
Recharging from AC power is quite nice, as it supports 2 A over micro-USB and includes a high-amperage adapter, which is usually a separate purchase for battery packs. It took about two hours to cross 50 percent and about five hours to charge in full.
As I said at the outset, this is all fine and dandy. But once you compare its features to other options, its advantages seem to fade away.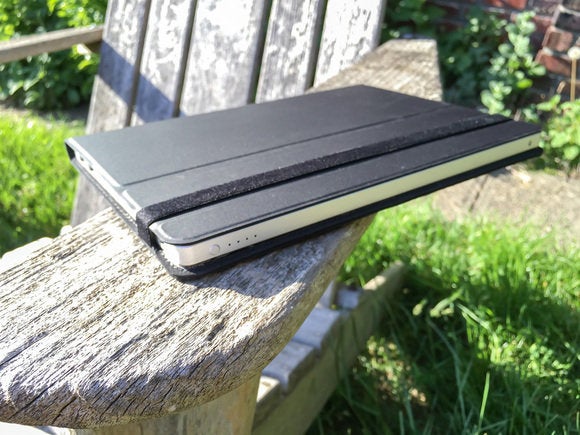 The Solartab comes in a handsome case that doubles as a multi-position stand for altering the angle to the sun. Credit: Glenn Fleishman
In brightest day, in blackest night
Here's my quandary with the Solartab in a nutshell: it doesn't charge fast enough nor have enough capacity to be worth its weight and price. In any case I can imagine for needing a solar charger, a higher-capacity batter pack (or two) possible adding a higher-wattage charger make more sense.
If you're packing in to a campground, on a multi-day hike, or driving to a cabin without any electricity, then the odds you'll have the ability to leave a charger out and soaking in sun seem low for any extended period. Or, if you can, you probably want to carry the battery with you as a backup without the weight of the solar panel.
There's also the issue of calculating how much power you might need if you're away from electrical sources for several days. If you or your party keep cell phones on, and there's a distant signal, the cell radio runs at full power and will suck the phones dry sometimes several times faster than in an urban area. If you want to be able to watch movies on an iPad at night, that's a different use case, and might require solar recharging while off the grid.
However, in all the scenarios I envision the Solartab making sense, it's not the best option. For half its $100 price tag, you can purchase the well-reviewed Anker Astro E7 26800 mAh USB battery pack ($50 and available on Amazon). It weighs 1.1 pounds, measures 6.5 by 3.1 by 0.8 inches, and stores twice as much juice. That's enough to charge an iPad multiple times or re-energize several iPhones for a week or two.