Sonos redesigns its Play:5 speaker, announces Trueplay room-tuning software
Trueplay software can customize Sonos speakers to play the best they possibly can in the rooms they're in.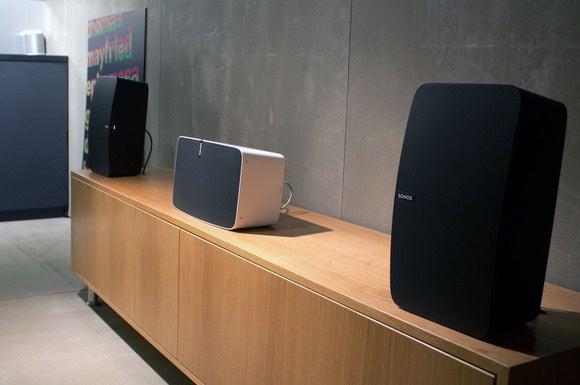 The Trueplay demo was performed with the Sonos Play:1 on the counter, pushed far into the corner. Credit: Michael Brown
The redesigned Play:5
Sonos has for completely redesigned its flagship powered speaker, the Play:5. Kaul said everything about the new Play:5 is different. The new model is outfitted with six drivers: Three tweeters and three mid-woofers (the original Play:5 had two tweeters, two mid-ranges drivers, and a woofer). The speaker can operate either vertically or horizontally, and its orientation makes a big difference: A single speaker will produce a stereo sound stage when positioned horizontally. Stand it upright, and an onboard accelerometer detects the change and transforms the Play:5 into a monophonic speaker that can be paired with a second Play:5 to form a stereo pair. When configured alongside a Sonos PlayBar and Sonos Sub, a pair of Play:5s can even become the surround-sound speakers in a home-theater configuration.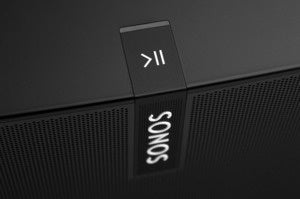 There will be no buttons on future Sonos speakers. They're being replaced by this touch-sensitive badge. Credit: Sonos
A pair of microphones inside the Play:5 are dormant for now, but they might be used in the future to measure the acoustic properties of the room the speaker is operating in. Sonos didn't provide a full spec sheet with dimensions, but Kaul did tell me the new speaker was almost 50-percent heavier than the original. There wasn't an old-school Play:5 in the room for me to compare it to, but it certainly looked a whole lot beefier than the original as I remember it.
Kaul also told me that Sonos is replacing the buttons on all of its speakers with a touch-sensitive badge. Instead of pushing buttons, you simply swipe across the badge with your fingertip. Play, pause, and track changes are also performed with swipes. Sensors inside the cabinet know which orientation the speaker is in, so that swiping up always raises the volume. "All future speakers will be of this design. You see the grill and you see the case. It's all about the speaker and all about the sound."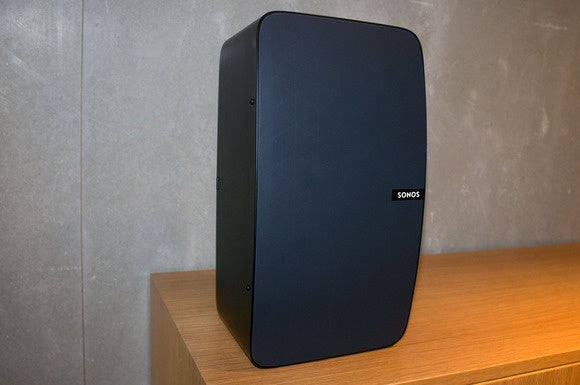 The Play:5 becomes a mono speaker when oriented vertically. Two together will operate in stereo this way. Credit: Michael Brown
This is a paper launch, so we'll have to wait a bit longer to get our hands on the new speaker and software to see how it performs in the real world (the press release says both products will be available "later this year"). The speaker will be available in a matte black and matte white finishes and will retail for $499. Trueplay, as I mentioned earlier, will be a free upgrade.