Steam Link review: Valve's US$50 box is the game streaming solution you want
The smartest way to bring PC games to your living room.
The streaming experience
It's not a computer. It's just a conduit for Steam in-home streaming.
That's the important thing to remember with Steam Link. This is a dumb box that decodes compressed 1080p, 60-frames-per-second video sent from your PC over your network and routes it into your TV, then interprets your button presses and routes those back to your PC. Turn it on and you're immediately asked which computer you want to stream from on your network. The first time you connect you'll need to enter a four-digit verification code on your computer, and then Steam Link remotely launches Big Picture Mode on that PC—not SteamOS. Plain ol' Big Picture.

The first time you connect an account you'll need to enter a verification code on your PC.
Maybe that's obvious, but I feel it's an important distinction to make. Why? Because it means you can't use Steam Link and your PC at the same time, because they are essentially the same. If you're, for instance, thinking of hooking something to the TV for the kids to play while you get work done, well, don't get Steam Link. The games will take over the screen on your PC, too.
It also means there's nothing for me to talk about as far as traditional specs. The performance you'll see from Steam Link relies entirely on what you already own at home. Got a powerful PC packing a GeForce GTX 980 Ti, a solid processor, and a healthy LAN? You'll see pseudo-980 Ti-level performance. Trying to run a GTX 750 Ti over wireless, using an outdated router and a low-end processor? Best of luck.
Personally I'm more in line with the former situation, so I can tell you how Steam Link works given near-optimal conditions. In short: Pretty damn well, with the occasional hiccup.
NOTE: All the numbers below came direct from Steam's own overlay, which can be enabled in Settings > In-Home Streaming > Advanced Client Options.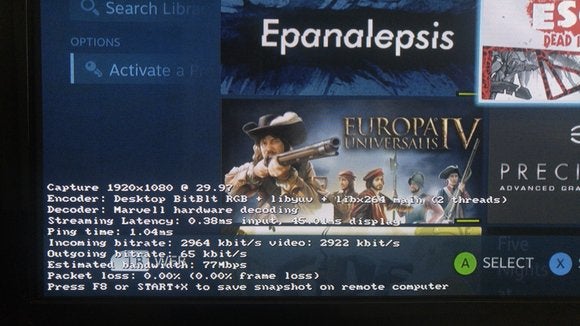 These are the numbers I'm pulling from, shown here in my games library.
Let's talk Call of Duty: Advanced Warfare, which I chose because I figured a twitchy, fast-paced shooter would be a good starting point. Wired in on both ends, using hardware encoding, a GTX 980 Ti, and an i5-3570K I could maintain 1920x1080, 60 frames per second in perpetuity with around 15-30ms of latency (borderline noticeable, especially on the few occasions it spiked higher, but far better than I got out of the Doko) and a bitrate of 12.5 to 15 Mbps. That's with all the graphics settings maxed out, which is pretty damn nice.
Previous Page 1 2 3 4 Next Page