Steam Link review: Valve's US$50 box is the game streaming solution you want
The smartest way to bring PC games to your living room.
The Witcher 3 was much more punishing. Here, Steam claimed I was running 1080p, 60 frames per second, but the image compression was much more severe and I had near-constant microstuttering and frame loss. I'd classify it as borderline playable on my system and network, even on High settings.
These are examples that push the limits of what you'd do with Steam Link, though. Call of Duty is twitchy, The Witcher 3 is a current PC tentpole. And they're notable because they're games you couldn't play on a SteamOS-based Steam Machine natively, as neither offers a Linux version.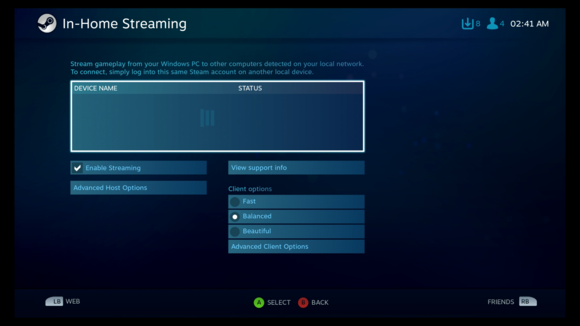 You can also tweak streaming settings to focus more on speed/quality. Click on image to enlarge.
They're also relatively system-intensive games, ones where any amount of latency is not just noticeable, but an active detriment. Steam Link can keep up, but it seems far more suited (in my mind) to the unique opportunities extended by the Steam Controller—playing 4X strategy games like Civilization, for instance, or point-and-click adventures. Here, any latency is negligible due to the less-strenuous system demands, and also because the game plays out in a way where latency is a non-issue.
Still, it's good to know that if all you play is action games Steam Link will still work. You'll likely lose a bit of performance off the top—say, 10 frames per second—and may lose a bit more to the network. You'll probably see some pixelation and crushed blacks. But every game I tested this week has been playable: Call of Duty, The Witcher, Rocket League, Type Rider, Portal 2, and the list goes on.
Q&A
There are some important edge cases to note, however:
Did it matter if I unplugged my router (an Asus 802.11ac Gigabit model)? Answer: Not much. My ping went up by about 4 milliseconds, which is negligible, and otherwise I got the same performance out of the Steam Link wired as I did wireless. My desktop PC stayed wired because it's always wired. This of course depends on how far away the two devices are, how much network penetration you get in your house, et cetera. I can't promise it'll work unplugged for you.
I'm noticing a lot of latency but Steam says the network is fine. Could my TV be to blame? Yes. Absolutely. TVs are typically slower than a monitor. My monitor, for instance, adds only one millisecond of latency to the equation. My TV? Quite a bit more. If you're having trouble but your network seems fine, try plugging your Steam Link into your computer monitor and see if you notice a difference. If yes, then it might be your TV that's the issue—not Steam Link or your network. Some TVs offer special gaming modes that reduce latency.
Previous Page 1 2 3 4 Next Page