Surprise! Best Buy prices often on par with Amazon
Best Buy closed the price gap on electronics and tech gadgets during the past years, and its in-store prices are often just as low — sometimes lower — than Amazon.com, according to new research.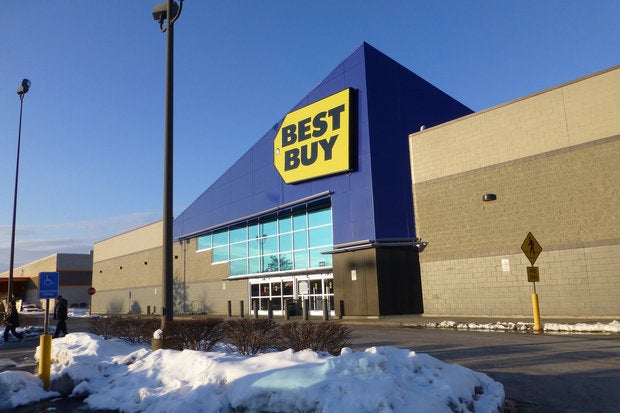 Retailers like Best Buy offer a chance to get up close and personal with a PC that you intend to buy -- and can inspect for unwanted apps. Credit:Flickr/Nicholas Eckhart
It's not often that a brick-and-mortar retailer can match, let alone beat, Amazon.com's online prices. Best Buy, however, is doing just that, according to a Wall Street analyst's comparison of more than four dozen items sold by both stores.
Once floundering, Best Buy has since upped its game by hiring more knowledgeable sales people, building brand-specific stores within stores, and featuring hot new products, including the Apple Watch. Even so, many consumers still assume Amazon offers better prices than electronics stores, such as Best Buy. Honestly, that's been mostly true.
But David Magee, who follows Best Buy for SunTrust Robinson Humphrey, a corporate and investment bank, put together a shopping basket of common items, including washers and dryers, TVs, computers and other accessories sold by both Amazon and Best Buy. The result: Magee and his team found that on average there was little or no difference in price. "In the past, we've seen a gradual tightening of the spread between the two retailers. This time, the basket totals were essentially at parity," he wrote in a SunTrust research note.
For example, a 60-inch Sony TV was listed for $899.99 at Best Buy, and it was just $2 cheaper at Amazon, not including tax or shipping charges, according to Magee. A 23-inch IPS Dell monitor cost $129.99 at Best Buy and $149.99 at Amazon, but Amazon did offer a Samsung Galaxy Tab tablet for $20 less than Best Buy. The TV accessories the team compared tended to be cheaper at Amazon, but Best Buy offered lower prices on camera accessories.
Shipping, convenience and salespeople also factor in
It's worth noting that Amazon Prime customers, who pay $99 a year, are eligible for "free" shipping; Best Buy now offers free shipping on purchases of $35 or more, and it lets customers pay online and pick up purchases the same day.
Earlier this week, I wrote about my (good) experience buying a Lenovo G50 laptop at Best Buy. At the time, the PC was on sale for $249, but as of today it costs $309. The same configuration is listed for $313 on Amazon. And when I looked at external hard drives to back up the new PC, both stores offered a wide range of products at similar prices.
I did a quick comparison of a MacBook Pro with Retina display, 8GB of memory and a 128GB solid-state hard drive; it costs $1,235 on Best Buy and $1,299 at Amazon, with free shipping.