Take note: Smart classroom tools for tech-savvy students
Attention college students! Use these tools to help you study.
Moleskine's Evernote Smart Notebooks are available in two sizes: Large (5 by 8.25, $30) or Pocket Size (3.5 by 5.5, $25); with either ruled or grid paper.
Livescribe Sky Wi-Fi Smartpen ($150-$220)
Spend one lecture with the Livescribe Sky Wi-Fi Smartpen, and it will be hard to go back to your regular old Bic. As you write, the Sky records audio and links it to the note you're jotting down in your Livescribe notebook. When reviewing notes later, tap any word to hear what your professor was saying at that moment. If you've left yourself a doodle, abbreviation, or mnemonic device, tapping that word will bring you right back to the lecture. The pen can hold up to 800 hours of recorded notes, depending on the version you pick.

Livescribe's Sky is one smart pen. It syncs audio to your written notes, then syncs it to Evernote.
The Sky's controls are actually on the pages of the notebook, so tap the right button to start or stop recording, adjust the volume, and more. Plus, the Sky is Wi-Fi enabled, so it automatically transfers your handwritten notes and audio recordings to your Evernote account. If you don't want to use Evernote, audio files can be transferred via Micro-USB.
The Livescribe Sky Wi-Fi Smartpen is available with storage capacities of 2GB ($150), 4GB ($200), or 8GB ($220).
Rite in the Rain waterproof notebook ($4 and up)
Waterproof paper so your notes don't bleed if they get wet! Genius.Rite in the Rain's line of waterproof notebooks are pretty low-tech, but super handy for science labs and outdoor classes. They contain special paper that's designed to shed water, moisture, dirt, grime, and tons of other liquids to leave your notes in tact. You can use any pen with these books, but a pencil or an all-weather pen works best. These notebooks come in all sizes and page styles, and are completely recyclable.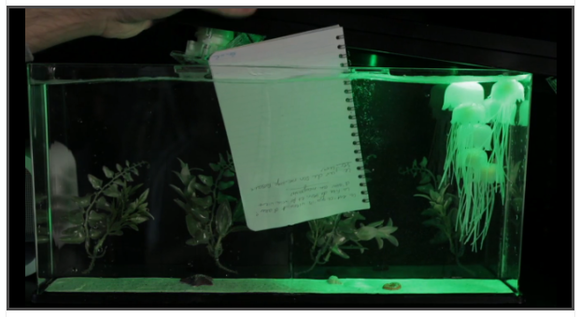 Rite in the Rain notebooks keep your notes in tact in all sorts of conditions.
Tascam DR-40 digital recorder ($200)
During some classes you'll want to have your hands free, like during a lab demonstration or a field trip. So you'll need an audio recorder to take notes. If you're on a budget, a plethora of smartphone apps are available for audio recording; but consider investing in a high-quality stand-alone recorder. Tascam makes the Cadillac of recorders: The DR-40. It has internal microphones that you can adjust to capture the lecture perfectly in any room, and it records a backup track in case the primary track sounds distorted. You can later dump the sound files to your computer as either MP3 or WAV files.