Tested: Six third-party Apple Watch bands
One of the greatest features of the Apple Watch is its band design: If you don't like the band that you ordered with your Watch, just swap it out for something new. While Apple has a ton of great-looking options, its designs can be limiting if you're not a fan of their looks, price points, or materials. Luckily, third-party Apple Watch bands have hit the market, offering more affordable leather straps, glittery sport-like bands, mixed-metal designs, and more--not just cheap $20 knock-offs of Apple's own unique bands.
The Sheer Glam band comes in two transparent elastomer pieces (not to be confused with the fluoroelastomer of Apple's Sport band), which feature tiny flecks of champagne-colored glitter. The adapter is built right into the band--no metal hardware to contend with, though you can see the metal adapter's insides through the transparent elastomer, which isn't particularly pretty. The Sheer Glam has a matte silver metal buckle and two elastomer loops to keep the end of the strap in place, but these loops are not quite tight enough and tend to slide while you're wearing it.
I like the way the Sheer Glam looks--it's sparkly but still casual--but compared to the Apple Sport band it's stiffer and has a more plasticky feel.
Casetify Candy Feathers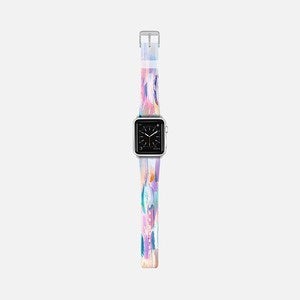 Casetify's bands are all the same, construction-wise--the only difference is the design and hardware. I tried out two of Casetify's $70 bands: One adorned in watercolor feather print (Candy Feathers) and one sporting a multicolor diamond check pattern (Pass This On).
Casetify is all about customization--when you choose your Casetify band, you can pick a pre-made design or upload your own, and you can also choose matte silver or matte black hardware. The Candy Feathers band came with matte silver hardware, including matte silver adapters that were only slightly darker than my aluminum Watch Sport casing. Pass This On came with black hardware (black adapters and a black buckle).
Casetify's bands are made of thick, flexible polycarbonate and are very comfortable--on par with Apple's Sport band. The bands are soft, with inside ribbing for extra flexibility, and a transparent polycarbonate loop to keep the band in place. My only real complaint was that the 38mm band was a little long for my wrist, but I have a pretty small wrist (5.5 inches).
Casetify's bands are excellent: Comfortable, durable, and eye-catching. While $70 might seem a bit expensive for a casual, sporty band, remember that Apple's Sport band is $49--so you're really only paying $21 extra for a custom design, which is well worth it.
Monowear Nylon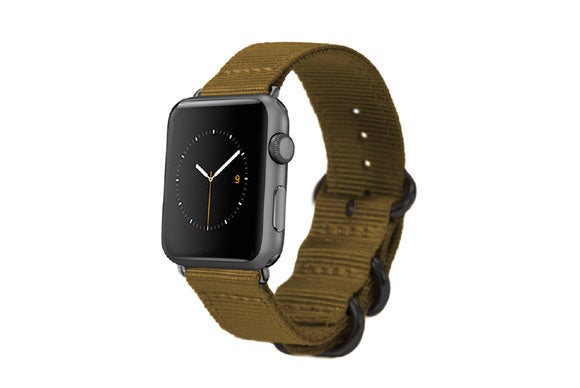 Monowear's $60 Nylon band may seem basic, but this brightly-colored strap is eye-catchingly different from any of the other third-party Watch bands I've seen. Perhaps that's just because it's been years since I've seen a watch with a nylon band (I believe the last one was my black-and-purple Timex in third grade).
The Nylon band comes in black, red, turquoise, pink, purple, gray, and olive green. All of the colors feature bright chrome hardware, and the black, gray, and olive green colors also offer the option of black hardware. Monowear is all about matching the adapter color to your Watch casing, so you can choose matte silver or polished silver adapters (the bands with black hardware come with matte black adapters). The matte silver adapter isn't exactly the same color as my aluminum Watch Sport casing, but it's close enough.
Previous Page 1 2 3 4 Next Page