Tested: Six third-party Apple Watch bands
One of the greatest features of the Apple Watch is its band design: If you don't like the band that you ordered with your Watch, just swap it out for something new. While Apple has a ton of great-looking options, its designs can be limiting if you're not a fan of their looks, price points, or materials. Luckily, third-party Apple Watch bands have hit the market, offering more affordable leather straps, glittery sport-like bands, mixed-metal designs, and more--not just cheap $20 knock-offs of Apple's own unique bands.
Monowear's Nylon band is probably the sturdiest strap I've seen. It's made of two doubled-up pieces of nylon that are sewn and bonded together, and it features a thick chrome buckle and two chrome loops that are sewn in place. The band is a bit stiff when you first take it out of the box, but it loosens up quickly after you wear it for a few days. I'm a big fan of the bold colors (I tested the red band with matte silver adapters), and this band just looks right with the Watch--even though the material seems like it would be inapposite.
Monowear Leather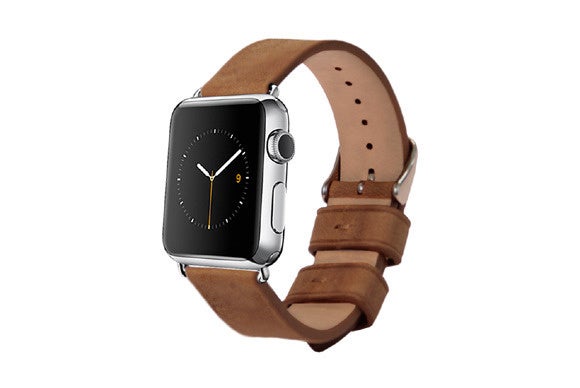 Monowear's $80 Leather bands are nice, affordable alternatives to Apple's leather options. The Monowear Leather band is more of a traditional-looking watch band than the Modern Buckle or the Leather Loop, and, in my opinion, it looks nicer and more expensive than the Classic Buckle.
The Leather band comes in five colors and two finishes: The brown, black, and crème colors feature a suede finish, while the poppy red and navy colors have a semi-gloss finish. You can also choose from matte silver, polished silver, or matte dark gray adapters. I tested out the crème suede band with matte silver adapters. The crème color is more prone to getting dirty than I imagine the other colors are, but all in all the band is very sturdy and well-made. The leather is thick but flexible, which makes for a relatively comfortable wear once it loosens up a bit.
I personally like Monowear's Leather band better than any of Apple's leather offerings, though I do find the Leather Loop to be slightly more comfortable. Don't get me wrong--the Monowear Leather band isn't uncomfortable, but you're not going to forget you're wearing a Watch anytime soon.
Monowear Metal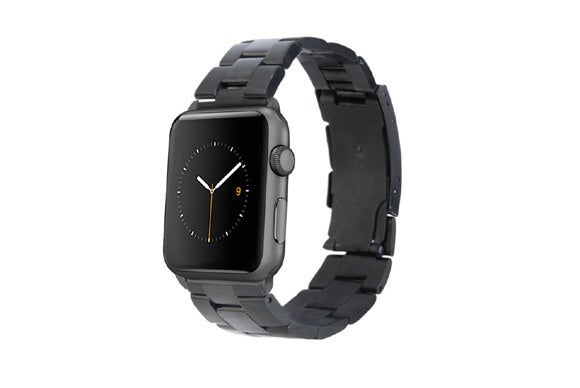 Monowear's Metal band doesn't really compare to either of Apple's metal bands--it's probably closer to the Link Bracelet, but it's nowhere near as stylish or precisely machined. The $100 Metal band, which comes in silver and black, looks just like a traditional metal link bracelet watch band. It's not unattractive, but similar watch bands are usually priced closer to $50.
I tried out the silver Metal band, which has a two-tone finish (polished metal inner links and brushed metal outer links) and a pushbutton deployment clasp. The clasp is easy to work, though it doesn't lay perfectly flat, and the bracelet is fairly comfortable to wear. The bracelet is approximately seven inches long (closed), and has five removable links to accommodate smaller wrists. Like other Monowear bands, you get to choose your adapter finish from matte silver, polished silver, or matte dark gray.
Previous Page 1 2 3 4 Next Page