The 10 must-have utilities for macOS Sierra
For the least frustration and most efficiency on your Mac, install these handy extras.
Default Folder seemed like it might be a casualty of System Integrity Protection (SIP) introduced in El Capitan, but the developer wrote a complete overhaul of the app to work within Apple's limits, and the new version now exceeds the previous one. (Read our review.)
Whenever I have to use a Mac that doesn't have Default Folder installed, I'm reminded of how frequently I use it and how much I rely on it. It has a very shallow learning curve.
TextExpander
Computers are meant to reduce tedious repetition, and yet we often find ourselves acting like a computer in our work. TextExpander is a text-expansion utility, letting you type a few keystrokes and have them "expanded" to be something else. It turns the computer back into a repetition-avoiding machine. I can type two or three characters, and TextExpander drops in my email address, phone number, or mailing address.
With wildcards and placeholders, you can also have TextExpander type out the current date and time, or use the clipboard's contents alongside other manipulations, including a few keystrokes (like Tab and Escape) and cursor movements. It also allows you to create forms with pop-up options for standard replies.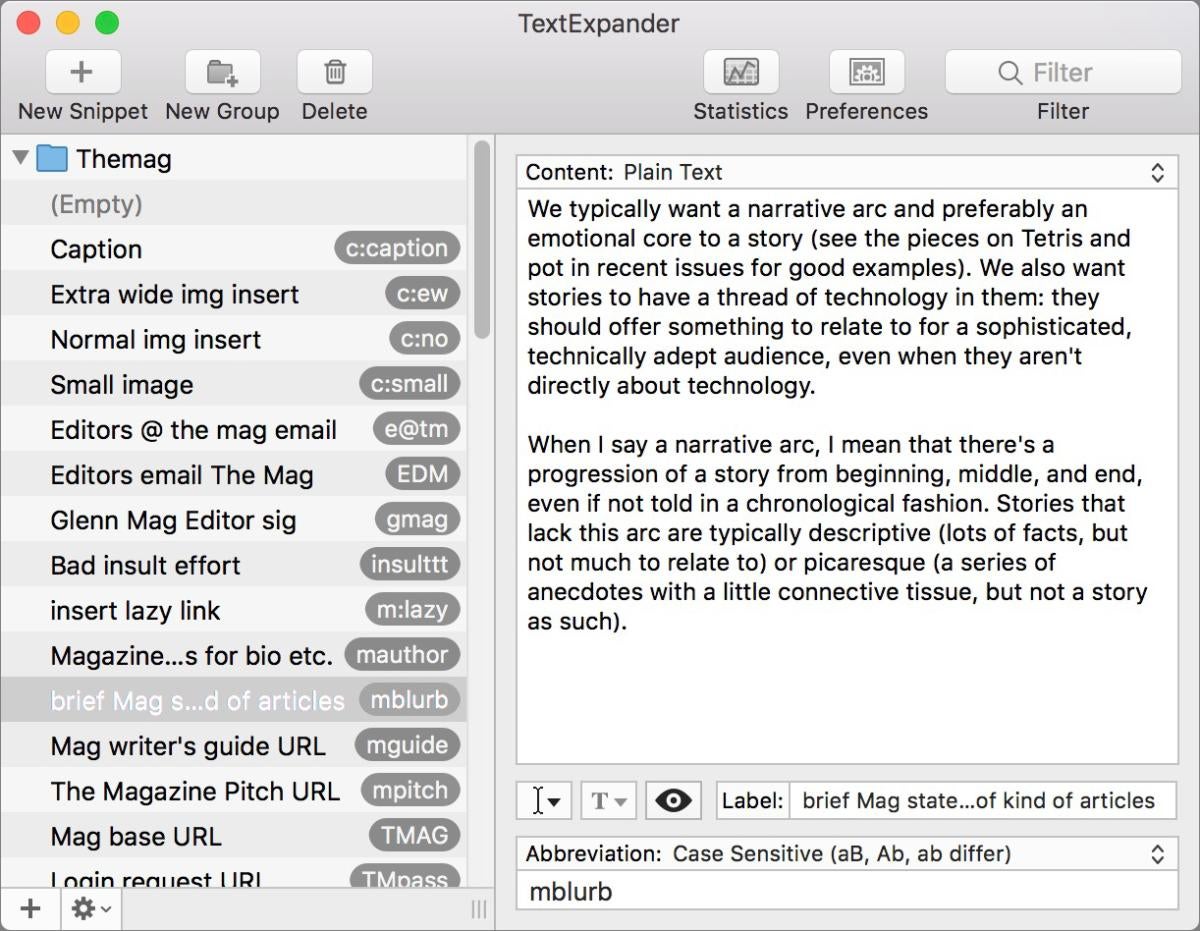 With TextExpander, you let a computer handle the repetitive typing tasks.
TextExpander supports AppleScript and other system scripting integration, and includes a few scripts for things like turning the current contents of the clipboard into a bit.ly shortened URL. One of the app's gimmicks is tracking estimated time saved. It's apparently bought me 10 hours of my life back between July and December of this year.
TextExpander had a kerfuffle this year when its maker switched from flat-rate pricing for version 5 to subscription pricing for version 6 (including software updates, cloud sync, and snippet sharing). We have reviews of both version 5 and version 6. You can still purchase the fully featured version 5, compatible with macOS Sierra, for a flat US$45 or subscribe to version 6 for US$4.16 a month or US$40 a year (US$3.33 a month).
While I'm a long-time TextExpander user, some people prefer Keyboard Maestro (US$36), which has text-expansion features like TextExpander, but also can directly manipulate the mouse and menus in macro sequences and has clipboard-history management.
1Password
In these days of constant password breaches at major and minor websites, having unique strong passwords is a must. 1Password not only stores passwords, but creates them, and through browser plug-ins can create and drop them into a form and store them in just a few fluent clicks.
Because 1Password has extensions or plug-ins for all the major browsers, you never have to switch to it to drop passwords into a form to login. And it can also store in a structured form all sorts of other things, like credit cards, bank accounts, and licenses. 1Password can fill in credit-card information into forms. You can also save all the entries in a form from a webpage, which is invaluable in inventing fake answers to security questions and storing them so you can remember them later. (We reviewed version 6.0; it's now up to 6.5.)
Previous Page 1 2 3 4 5 6 7 8 Next Page