The 10 must-have utilities for macOS Sierra
For the least frustration and most efficiency on your Mac, install these handy extras.
(Tip: You can use 1Password to create unique random gibberish for questions like "What is your first pet's name?", and as long as you store it, a hijack of that site's list of such questions doesn't compromise your accounts elsewhere that would otherwise share security answers.)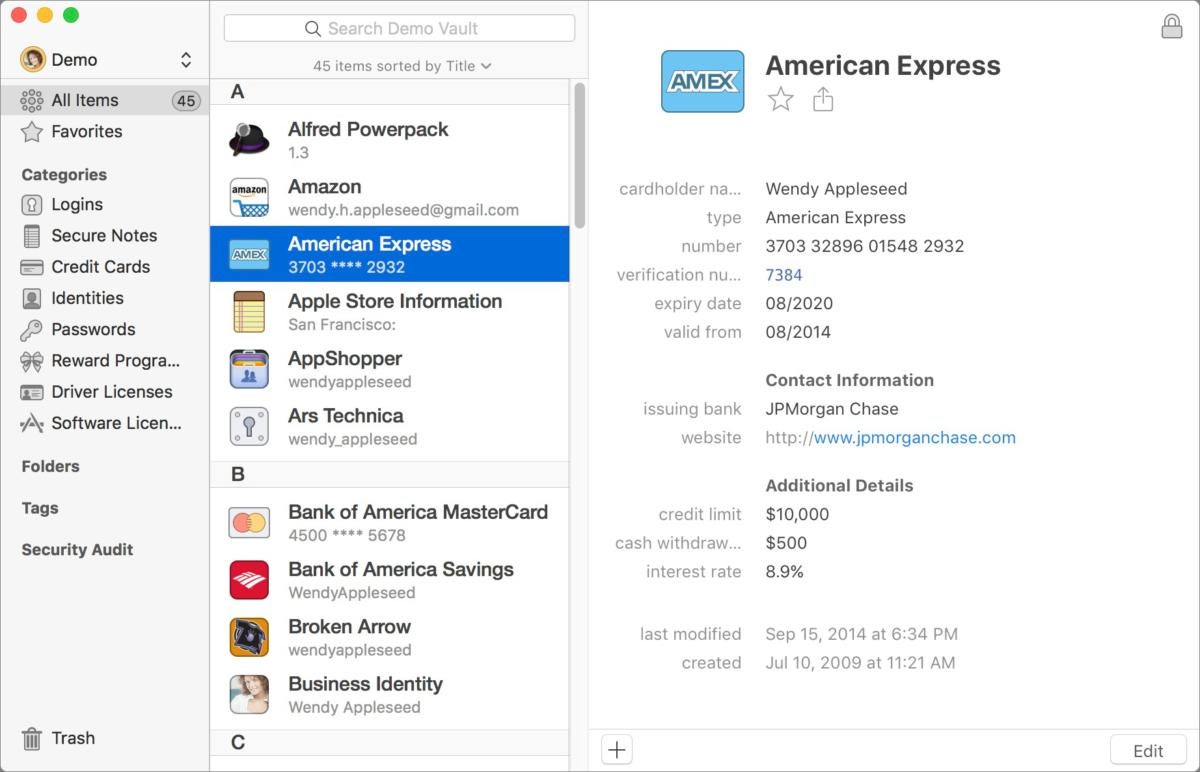 1Password lets you generate unique passwords within a browser, fill in credit cards, and manage it all with aplomb.
I like that its creator, AgileBits, added a few months ago the ability to generate multi-word passwords. These are easier to remember and to type, and as long as they are sufficiently random and long enough, just as resistent to brute force as the most ridiculous looking password with an unnecessary mix of letters, numbers, punctuation, and Egyptian hieroglyphics.
1Password added subscription-based options this year that include continuous updates and a family version that allows secure sharing of passwords. It's US$36 a year for a single user or US$60 a year for up to five users in a family. This price includes free use of clients in macOS, Windows, Android, and iOS.
The standalone 1Password for macOS is $65; the complementary iOS version is free for everyone, but some not-critical Pro features cost $10 to unlock unless you're subscriber, in which case they're part of the subscription.
LastPass is a widely used alternative to 1Password, although LastPass stores passwords centrally. It's been hacked once, but the care with which they secured their database rendered that theft essentially useless to the attackers. That resiliency is a plus. I prefer, however, using 1Password either on storage I control or with AgileBits' partitioned cryptographic approach, which stores your data centrally in a way that the company never directly handles your password.
LastPass' key advantage? The standard version is free across platforms; it's $1 a month for a premium flavor that includes family sharing and priority tech support.
Bartender
My system menubar is a mess! I've tried scrubbing, I've tried washing, and nothing works! Bartender ($15), take me away!

Declutter an unusable system menubar with Bartender.
If you're anything like me, you have a slightly ridiculous number of drop-down and status menus in your system menubar from Apple and third-party apps and system components. Some of Apple's items you can't hide, even if you want to. Even on my wider of two displays, an app's menu items often crowd out the leftmost menubar icons. (Read our review.)
Bartender 2 brings a delightful and simple management approach. With this app, you can choose to leave a menubar item alone, hide it entirely, or drop it into a secondary dropdown Bartender menu. Even if you're hiding the item, you can set Bartender to show it whenever the icon displays activity.
Previous Page 1 2 3 4 5 6 7 8 Next Page