The 10 must-have utilities for macOS Sierra
For the least frustration and most efficiency on your Mac, install these handy extras.
The app was another one that people worried El Capitan's SIP would render impossible to update, but the developer thoroughly revised it to work in the new model, and released a Sierra update in a timely fashion, too.
LaunchBar
I have many, many apps installed on my Mac, and my preferred way to launch them isn't by invoking Spotlight and typing part of the name and selecting a result, or using Mission Control or the Applications folder. LaunchBar (US$29) makes quick work: tap a keyboard command to bring it up and then type a few characters or use arrow keys to select from a set of options.
LaunchBar can be set to index all sorts of locations and all sorts of things, so it goes far beyond running apps. It can find system preference panes, contacts, AppleScripts, emoji, URL bookmarks, music tracks, and other items. You can use it as a calculator, to expose file metadata, keep a scrapbook of items pasted to the clipboard, and interact with reminders and events. It run queries on search engines, too. (Read our full review of version 6.0; it's up to 6.7 now.)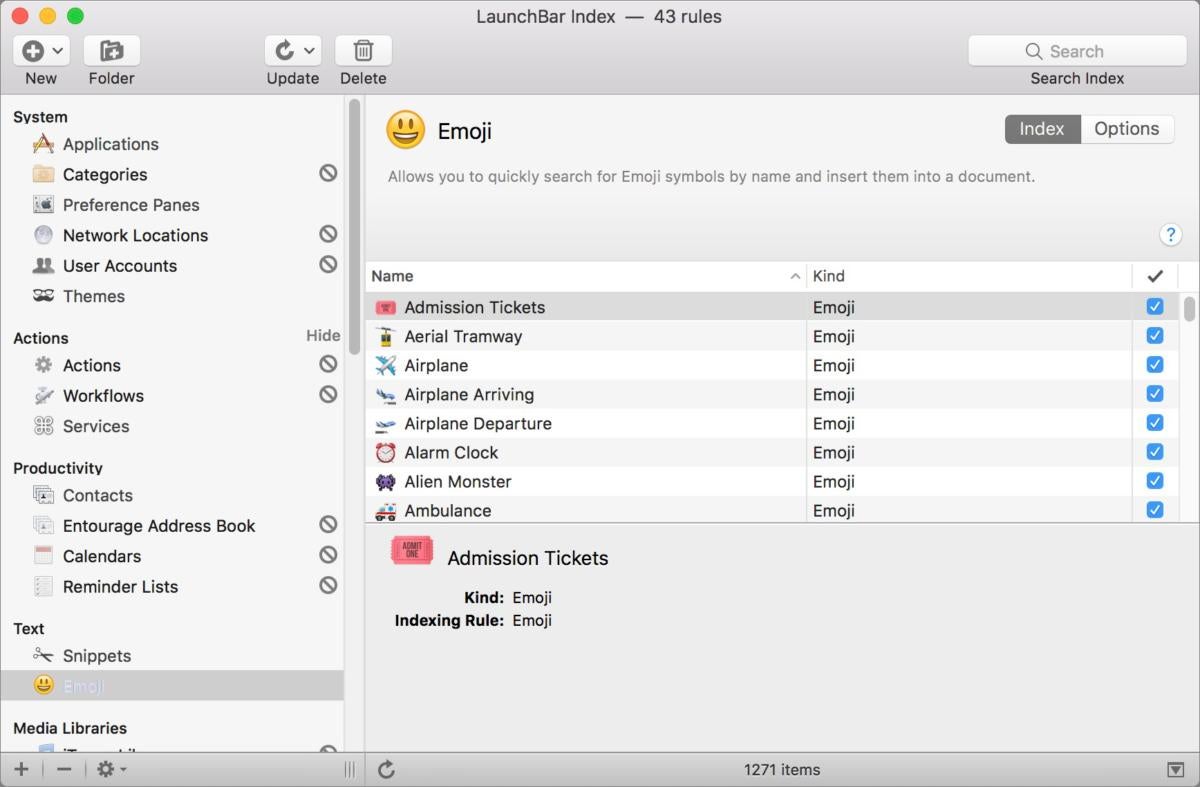 LaunchBar can open apps, find files, perform calculations, play music, and much more.
Add your document folders and enable some indexing rules that are turned off at installation, and you can pull up files in those locations by name, too, or see a list that matches however much of a name you want to type.
For all that it's a Swiss Army knive, you can turn off or leave disabled many features. Some people dive deeply into LaunchBar and use it constantly; others, like me, rely on it for a handful of very common uses.
It has a statistics window like TextExpander, and reports I've saved just over two hours in the last two and a half years. That's too modest of the developers, though, because I can launch an app in LaunchBar in well under a second; it takes seconds to find and launch an app through any other built-in means.
Several launcher alternatives have their adherents; we published a roundup of several in early 2015, including one that's free. The long-running DragThing app also has its staunch users and defenders, but it hasn't had an overhaul in some time, and its developer hasn't announced plans beyond the current compatibility updates and bug fixes that keep it working.
Pastebot
Pastebot ($10) is the newest entrant on my must-have list, and its core features are certainly not unique. In fact, you can find some of them in LaunchBar. But I've never adopted a clipboard manager before, as I didn't find existing implementations fit the way I want to retain, tag, search, and use them. Pastebot just shipped in December 2016 (as version 2, because of a long beta), and its the best all-around utility for clipboard management and text transformation.
Previous Page 1 2 3 4 5 6 7 8 Next Page