The 10 must-have utilities for macOS Sierra
For the least frustration and most efficiency on your Mac, install these handy extras.
With Pastebot, every time you copy or cut an item using the system editing tools, Pastebot retains a copy. By default, it holds the last 100 items, but you can decrease it to 50 or increase to 500. Everything held in Pastebot retains its native format—whether rich text, image, plain text, a URL, and so forth—and you can perform a full-text search against the stored items. (Read our review.)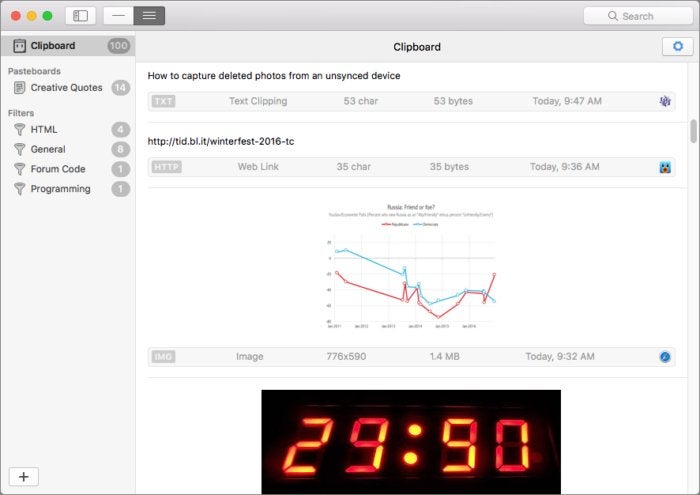 Pastebot captures the clipboard and provides easy access to dozens to hundreds of most recent entries.
Pastebot also offers text filters, which can process and transform text, like formatting it as HTML, cleaning up a URL, and changing rich text to plain text. You can build filters, which can have multiple steps in sequence. Filters can apply to a stored item in Pastebot or, via a keystroke you can assign, to the current clipboard's contents.
There's one oddball feature in Pastebot I quite like and am still getting used to: sequential paste. With this option, you can copy things in order from one place that you want to paste in the same order elsewhere. It's terrific for forms and contacts, where you're trying to copy a number of disparate items and put them in the same or different fields.
There are many alternatives for managing clipboard history; we published a roundup in early 2015 that includes one that's free.
BusyContacts
Apple's Contacts app isn't as bad as it used to be, but it's highly limited in a digital world in which we might have accounts (and thus contacts) all over. I switched a few years ago to BusyContacts ($30), which works with the Contacts database to sync with iCloud, but can also incorporate conduits to Fastmail, Fruux, Google, Office 360, and Yahoo, and pull in contact information from Facebook, LinkedIn, and Twitter. It works with generic CardDAV servers and Exchange servers, too.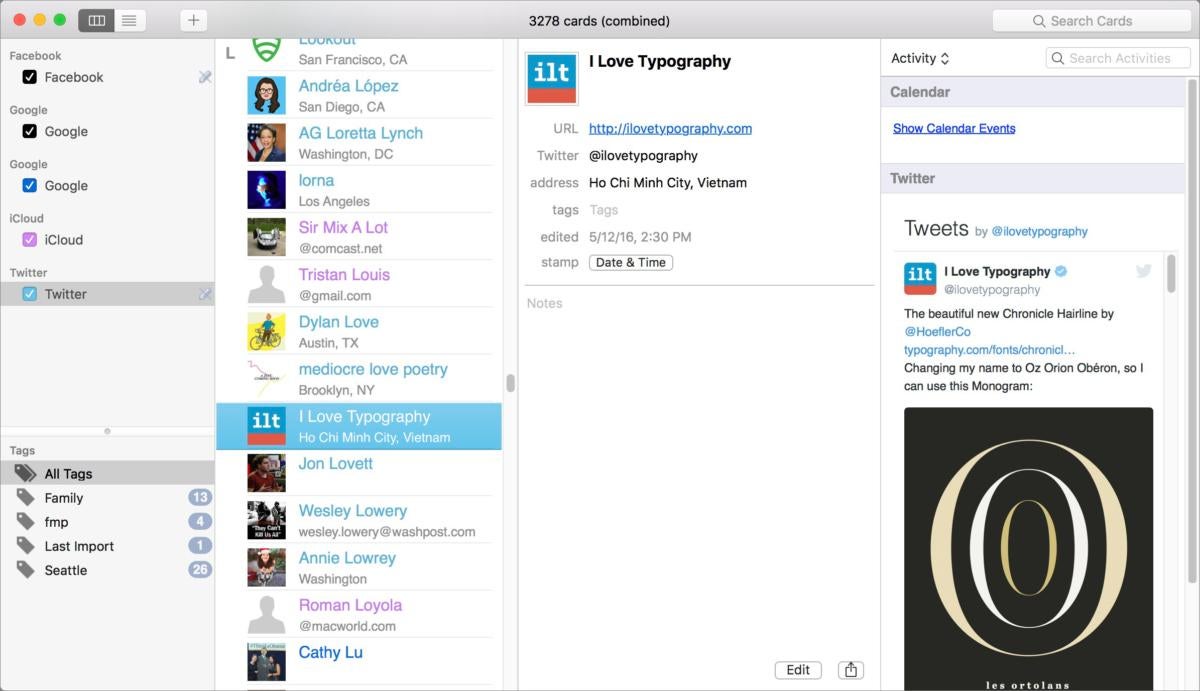 Combine all your contact services plus link the same people across multiple services in BusyContacts.
When you create a contact, you can assign it to one of the various sources with which you're syncing, but you can also move a contact later from one place to another. More powerfully, BusyContacts lets you link cards, so that data from multiple sources appears in one consolidated entry, or link and merge cards, copying information to each of the sources and providing a single listing. For creating contacts, you can add a card and fill it out or use a quick-creation tool that lets you type nearly freeform and have values dropped into the right places.
Previous Page 1 2 3 4 5 6 7 8 Next Page