The 10 must-have utilities for macOS Sierra
For the least frustration and most efficiency on your Mac, install these handy extras.
I particularly like the inclusion of Twitter, as it makes it easy to find Twitter contacts you're connected with in a way that native and third-party Twitter apps don't. (We last reviewed BusyContacts for version 1.0.)
BusyContacts' Activity pane is an additional bonus, and one of its selling points: it can show previews of activity related to all accounts in a contact card. That includes events, matching emails, and tweets.
Airfoil ecosystem
AirPlay was a terrific idea, but Apple never took it far enough, such as licensing it broadly (after an early wave of such efforts) to make it become a necessary included option on stereo receivers and other gear. I'm lucky enough to own a Yamaha receiver made at just the right time that it includes AirPlay support, and some receivers still feature it, but not many.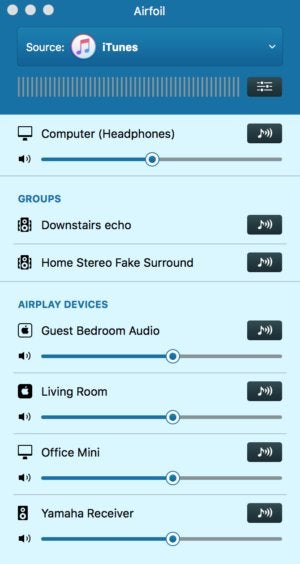 Airfoil lets you turn any computer or mobile device into a receiver.
Airfoil ecosystem lets you extend the utility of AirPlay by creating both AirPlay sources and destinations. With a retired iPhone or iPod touch plus Airfoil apps, you can add on AirPlay without any fuss.
The main Airfoil app (US$29) (also available for Windows) lets you pick a source app or device on your computer and then direct it to one or more destinations. This includes native AirPlay devices, like an Apple TV, AirPort Express, receivers, and other audio gear. But Airfoil also streams over the Google Cast protocol to Chromecast and TVs and speakers with Google support. And you can stream to Bluetooth connected devices.
Beyond that whole panoply, the developer, Rogue Amoeba, also makes a series of free "receiver" apps available for Mac, Windows, Linux, iOS, and Android. The Mac and Windows versions turn computers into generic AirPlay destinations, while the Linux and mobile versions act as Airfoil-only speakers. The iOS
This can let you set up a really inexpensive multi-room system, streaming from a Mac or Windows system everywhere, by pairing powered speakers with standard audio jack inputs with some of the old iOS gear you know you have lying around. Even if the battery is shot on an iOS device, you can keep it plugged in as a permanent part of your audio setup.
Soulver
As old-school as it may seem, a calculator is a necessity. And you can calculate all over the danged place: Spotlight lets you type in simple calculations and conversions, although it can't handle much deviation. Visit Google, and type a calculation in its search bar and get an answer and often an explication of the math and units involved. Even LaunchBar does math in its input field!
Previous Page 1 2 3 4 5 6 7 8 Next Page