The Beginner's Guide review: A weird, fiercely personal game
Surreal to a fault.
But…
Whether it's worth playing? That's a much harder question. Again, I'd refer you to Wreden's Steam description. If the idea of a game that "lasts about an hour and a half and has no traditional mechanics, no goals or objectives" sends you into conniptions, well, turn and walk away.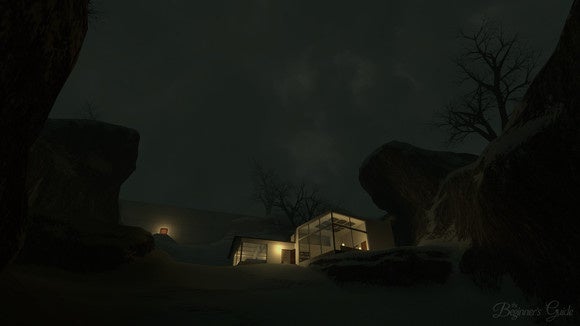 And I don't even think The Beginner's Guide is entirely successful. The levels are by and large not incredibly interesting. You could say "That's part of the point" and make a compelling case, but it doesn't change the fact these are mostly throwaway ideas contrived so Wreden can draw out some meaning. They're musings over the sorts of weird experiments all creators do. The difference being that most creators don't later package those experiments together and sell them.
Plus the final level I think undercuts its aims, due to some melodramatic voiceover on Wreden's part that doesn't quite (in my opinion) hit the way it was intended.
I do want to commend Wreden/"Coda" for creating some fantastic surrealist landscapes, though. Be it a million floating staircases or a cave full of tiny lights, there are some gorgeous vistas in this game I wouldn't have expected from the aging Source Engine. The aesthetic of the game is easily the most accessible bit of it all, with each level introducing a new look.
Bottom line
It's an unconventional game with interesting ideas—questions we don't ask often in games, mainly because most games aren't interested in this sort of dialog. We subsist mainly on a steady diet of summer blockbusters, and it's not often a weird art house game like The Beginner's Guide comes along, let alone gains any traction.
Does that mean I enjoyed it? No. I didn't. It's not the type of game you enjoy. It's not fun, nor is it really meant to be fun. It's a cerebral sort of experience—one I'm thankful I played, one which I've spent much of the last few days thinking about, but not one I'd invite to a party.
Whether it'll be of interest to anyone outside of critics and creators, I'm not sure. It is, as I said, a game you'll either applaud for its rawness or condemn as self-indulgent, or both. But at least it'll give you plenty to talk about.
Previous Page 1 2 3